---
Buy Together & Save!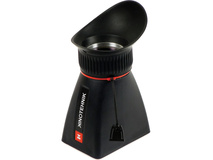 Kinotehnik LCDVF 3/2 LCD ViewFinder
---
Overview
The LCDVF 3/2 Digital SLR ViewFinder from LCD Viewfinder is a loupe that mounts around the LCD display of your Canon EOS Rebel T2i (aka 550D or Kiss X4), allowing it to be used as an LCD viewfinder with 200% (2x) magnification. By using the LCDVF 3/2 while in the camera's video mode, you can achieve more accurate focus and increase stability of handheld shooting. The LCDVF 3/2 can also be used by still photographers who either want to block out light while shooting in Live View mode or to inspect pictures on the LCD display.
The viewfinder has a magnetic mounting interface which allows rapid mounting and demounting without any wear and tear. There are 4 small magnets embedded in the plastic skirt of the LCDVF 3/2 which will not damage your camera. Note! As the mounting interface uses small magnets please see the elementary precautions listed in the user manual. Do not leave the LCDVF mounted on your camera for extensive periods (for days or weeks). The use of a screen protector in between the mounting frame and your camera is not recommended.
Key Features
Compatible with EOS 60D, 550D, T2i, X4, 60D, 600D, T3i, and X5
Stabilizes the camera when shooting video handheld
Aids on-the-fly focusing
Allows the use of the camera's LCD display in bright daylight
AR coated and optically corrected lens with 40mm clear aperture
No diopter correction (still usable from +0.5 to -2)
Robust and durable: no moving parts
Splash- and dust-proof
180° design allows instant left or right eye usage
The universal magnetic mounting interface allows rapid mounting and demounting without any wear and tear. There are 4 small magnets embedded in the plastic skirt of the LCDVF. The mounting frame acts as an additional safety shield to further ensure your confidence in the magnetic mounting system. These magnets will not damage your camera or any non magnetic media such as CF or SD memory cards 1

Please Note:

Do not leave the LCDVF mounted on your camera for extensive periods (for days or weeks). The use of a screen protector in between the mounting frame and your camera is not recommended.

close

* Allows the use of battery and wireless grip and all other original accessories
Flat mounting interface allows easy cleaning of the LCD screen
Specifications
Dimensions

For Canon EOS Rebel T2i (550D/Kiss X4)
1


Please Note:


Actual dimensions are not specified by manufacturer.
close

Magnification

Approx. 200% (2x)

Aspect Ratio

3:2

Materials

Body: impact resistant ABS
Eyecup: silicone rubber

Mount

Magnetic mounting system with a galvanized and powder-coated metal shield

Weight

3.84 oz (110 g)