Sennheiser HMD26-600-7 Stereo Headset

Product #10499
SKU 502464


(no ratings yet)

Thanks for your rating!
Usually ships in 2 - 3 weeks
---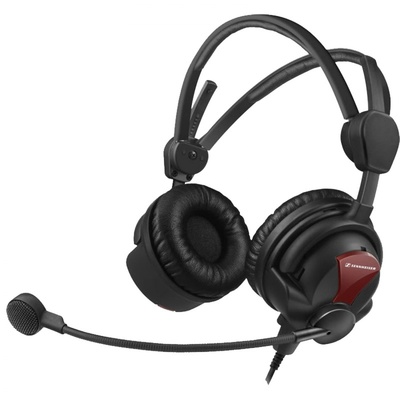 ---
Sennheiser HMD26-600-7 Stereo Headset
Product #10499 | SKU 502464
|

(no ratings yet)

Thanks for your rating!
Usually ships in 2 - 3 weeks
---
Communications headset w/ steel cable - 600 Ohm per system
---
Email me when stock arrives
The Sennheiser HMD26-600-7 - Stereo Headset is a professional-quality dual-ear communications headset, ideal for TV and radio broadcast applications. The headset has a lightweight design with an adjustable split-style headband and thick on-ear cushions for lasting comfort. The cushions also help to attenuate unwanted environmental noise. If you need to maintain awareness of your surroundings, the flip-away design allows single-ear listening.
The headphones are designed to deliver high SPL levels, but also employ Sennheiser's ActiveGard technology to protect the listener from volume peaks, minimizing the risk of hearing damage. The hypercardioid dynamic microphone has a focused pickup pattern for excellent speech intelligibility. The flexible gooseneck allows precise positioning, and it can be installed on the left or right side of the headset. When tilted into an upright vertical position, the mic automatically goes into mute mode.
The single-sided steel cable provides exceptional durability, and also minimizes snags and tangles. The cable has unterminated leads, allowing you to attach your own connectors for use with your specific system and devices. The headset has a modular design that allows to you easily replace the cable, mic boom, and ear cushions for a long life of professional use.
Features:
Lightweight
Extremely comfortable to wear, even for extended listening, due to the two-piece automatic headband and soft ear pads
Single-sided cable routing
Headphones for high maximum SPL
ActiveGard (switchable) - safeguards you from volume peaks above 105 dB
"Flip-away" headphone allows single-sided listening
Dynamic microphone (hyper-cardioid pattern)
Flexible microphone boom, can be worn on either left or right-hand side
Muting of microphone once mic position is upright
Cable, microphone boom and ear pads can be changed easily due to modular concept
Specifications
Transducer principle (Headphones): dynamic, closed
Ear coupling: supra-aural
Frequency response: 20 Hz - 18.000 Hz
Impedance: HMD 26-100: 300 Ohm mono / 600 Ohm stereo
Characteristic SPL (1 kHz, 1 mW): 105 dB
Characteristic SPL: 107 dB at 1 kHz, 1V
Max. Sound pressure level (aktiv): 127 dB SPL at 1 kHz, 200 mW (ActiveGard switched-off)
THD, total harmonic distortion: < 0,5 %
Contact pressure: approx. 3,6 N
Transducer principle (Microphone): dynamic microphone (hyper-cardioid)
Frequency response: 40 Hz - 16.000 Hz
Output voltage: 0,4 mV / Pa at 1 kHz
Operating temperature: -15 °C to +55 °C
Storage temperature: -55 °C to +70 °C
Weight w/o cable: 200 g
Reviews
(no ratings yet)
Own or use this product?
Give it a quick rating:
Thanks for your rating!
Share your thoughts with other customers:
Write a review
Product:

Sennheiser HMD26-600-7 Stereo Headset

Manufacturer:

Model:

HMD 26-600-7

SKU:

502464

RM Product #:

10499