Behringer EuroLive VP1220 Speaker

Product #2341
SKU BEVP1220


(no ratings yet)

Thanks for your rating!
---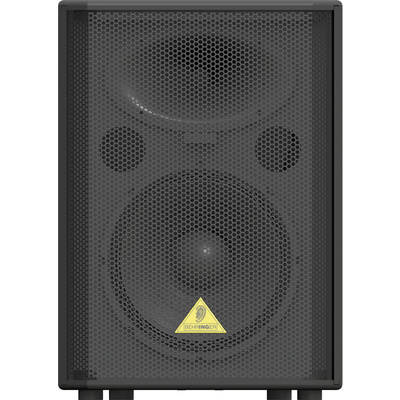 ---
Behringer EuroLive VP1220 Speaker
Product #2341 | SKU BEVP1220
|

(no ratings yet)

Thanks for your rating!
---
Professional 800-Watt PA Speaker
---
Email me when stock arrives
Professional 800-Watt PA Speaker with 12" Woofer and 1.75" Titanium-Diaphragm Compression Driver
Designed for musicians by musicians, the VP1220 loudspeaker merges incredible versatility and sonic performance with amazing affordability. The VP1220 is supremely portable and well suited for musical applications, and is the natural choice for commercial installation.
Audio Quality / Clarity - Superior Sound Quality
Capable of handling input levels up to 800 Watts, the EUROLIVE VP1220 PA loudspeaker delivers truly impressive sound quality. The powerful 12" long-excursion driver cranks out big tone in the bottom end and mid-range, while the state-of-the-art 1.75" titanium-diaphragm compression driver delivers crisp and detailed highs. The VP1220's wide frequency bandwidth and extensive dynamic range make it ideal for a multitude of applications.
Versatility
VP1220's unique trapezoidal design makes it ideal for use in FOH (Front-of-House), as well as floor wedge and side fill monitor applications. Enclosures can be clustered, stacked, or even stand-mounted thanks to the built-in 35-mm (1.375") pole socket.
Power / Wattage - Bass You Can Feel
In order to produce tight, deep bass, a loudspeaker has to move lots of air. EUROLIVE loudspeakers accomplish this by using powerful, long-excursion LF (Low Frequency) drivers that are handmade in our own factory. While some companies are content to use "off-the-shelf" drivers, we custom-design each LF driver to perfectly match each application. The VP1220 features an extremely powerful 12" long-excursion LF driver in a tuned enclosure, providing rich, tight bass all the way down to 55 Hz.
Pristine Top End
High-frequency (HF) content can easily make or break your performance. Too much and the sound becomes brittle and obnoxious, too little and it sounds muddy and poorly defined. The state-of-the-art 1.75" titanium-diaphragm compression driver delivers natural-sounding high end, with an ultra-wide 80° x 50° sound dispersion pattern.
Construction / Craftsmanship
The Technical Stuff
The VP1220 is capable of extremely high sound pressure levels (93 dB full space 1 W @ 1 m) and provides a 55 Hz to 22 kHz frequency range. And at just under 40 lbs (17.9 kg), the VP1220 is supremely portable. The internal crossover point is fixed at 2.5 kHz. Both 1/4" and professional-style twist-lock connectors are provided.
Optimized for maximum reliability through the integrated overload-protection circuitry, the VP1220 ensures the ultimate high-frequency driver protection. Designed to stand up to the rigors of the road, the VP1220 is built to last and made to perform!
Specifications
Professional 800-Watt 2-Way PA speaker system (200 Watts Continuous / 800 Watts Peak Power)
Exceptional sound quality, wide frequency bandwidth and dynamic range
Extremely powerful 12'' long-excursion driver provides incredibly deep bass and acoustic power
Proprietary 1.75'' titanium-diaphragm compression driver for exceptional high-frequency reproduction
Proprietary horn design for ultra-wide sound dispersion
Overload-protection circuitry ensures optimal HF driver protection
Trapezoidal enclosure for easy array and sonic accuracy
Integral tripod and stand adaptor
Ergonomically shaped handles for easy transport
Rugged steel grille for optimal speaker protection
2 professional speaker connectors plus 1/4'' jack connectors
High-quality components and exceptionally rugged construction ensure long life
Conceived and designed by BEHRINGER Germany
For more information and downloadable PDFs, visit the product page at Behringer.com
Reviews
(no ratings yet)
Own or use this product?
Give it a quick rating:
Thanks for your rating!
Share your thoughts with other customers:
Write a review
Product:

Behringer EuroLive VP1220 Speaker

Manufacturer:

Model:

B-VP1220

SKU:

BEVP1220

RM Product #:

2341