Behringer EuroLive VP1800S Subwoofer

Product #2344
SKU BEVP1800S


(based on 1 rating)

Thanks for your rating!
---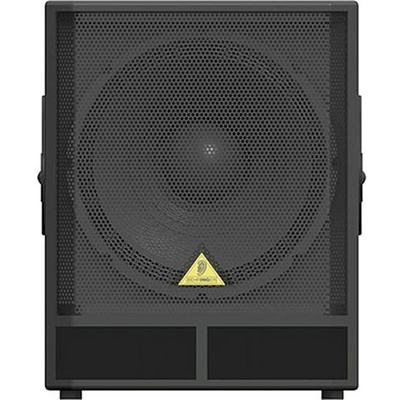 ---
Behringer EuroLive VP1800S Subwoofer
Product #2344 | SKU BEVP1800S
|

(based on 1 rating)

Thanks for your rating!
---
Professional 1600-Watt 18inch PA Subwoofer (single)
---
Email me when stock arrives
Designed for musicians by musicians, the VP1800S subwoofer merges incredible sonic performance with amazing affordability. The VP1800S is supremely portable and well suited for musical applications, and is the natural choice for commercial installation.
Audio Quality / Clarity - Power Handling Capacity
The VP1800S subwoofer is engineered to handle the demands of professional gigs, from small clubs to large stages. With its 1,600-Watts power handling capability, the VP1800S cranks out massive amounts of aggressive bottom-end, making it the ideal way to add tremendous punch to your current sound system.
Power / Wattage - Massive Bass
In order to produce tight, deep bass, a subwoofer has to move lots of air. EUROLIVE loudspeakers accomplish this by using powerful, long-excursion LF (Low Frequency) drivers that are handmade in our own factory. While some companies are content to use "off-the-shelf" drivers, we custom-design each LF driver to perfectly match its enclosure and application. The VP1800S features a powerful 18" long-excursion LF driver in a tuned enclosure, providing rich, tight bass all the way down to 40 Hz. That's extraordinarily deep bass that will shake the house right down to its foundation.
Construction / Craftsmanship - Let's Get Technical
The VP1800S is capable of extremely high sound pressure levels (100 dB half space 1 W @ 1 m) and provides a 40 to 200 Hz frequency range. A standard 35-mm (1.375") pole socket is provided for pole-mounting loudspeakers atop the VP1800S. The internal Low-pass filter (LPF) is fixed at 150 Hz. Both 1/4" and professional-style twist-lock connectors are provided.
Specifications
Professional 1600-Watt 18'' subwoofer for PA applications (400 Watts Continuous / 1600 Watts Peak Power)
Exceptional sound quality, wide frequency bandwidth and dynamic range
Precise reproduction of ultra-low frequencies with a clear, powerful punch
Ergonomically shaped handles for easy transport
Pole socket for speaker mounting pole
Rugged steel grille for optimal speaker protection
2 professional speaker connectors
High-quality components and exceptionally rugged construction ensure long life
Conceived and designed by BEHRINGER Germany
For more information and downloadable PDFs, visit the product page at Behringer.com
Reviews
(based on

1

rating

)
Own or use this product?
Give it a quick rating:
Thanks for your rating!
Share your thoughts with other customers:
Write a review
Product:

Behringer EuroLive VP1800S Subwoofer

Manufacturer:

Model:

B-VP1800S

SKU:

BEVP1800S

RM Product #:

2344