Shure A81WS Large Foam Windscreen for the Shure SM81 and SM57 Microphones

Product #5585
SKU A81WS
---
---
Shure A81WS Large Foam Windscreen for the Shure SM81 and SM57 Microphones
---
---
Product Features
Acoustically transparent foam
Reduce breath and wind noise
For SM81/57 microphones
Customer Reviews
(no ratings yet)
Thanks for your rating!
---
Buy Together & Save!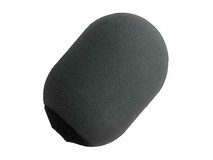 Shure A81WS Large Foam Windscreen for the Shure SM81 and SM57 Microphones
---
Overview
The Shure A81WS Large Foam Microphone Windscreen is designed with acoustically transparent foam to reduce unwanted breath and wind noise without affecting the sound quality. It is particularly effective in reducing pops and ticks caused by talking or singing closely into the microphone as well as reducing wind noise when using the microphones in outdoor applications.
For use with end address microphones including the Shure SM81 and SM57 microphones. Available in grey.