Neumann KMS 105 - Live Vocal Condenser Microphone (Black)

Product #31056
SKU KMS 105 BK


(no ratings yet)

Thanks for your rating!
Usually ships in 2 - 3 working days
---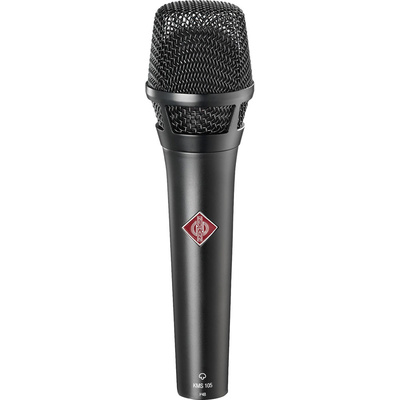 ---
Neumann KMS 105 - Live Vocal Condenser Microphone (Black)
Product #31056 | SKU KMS 105 BK
|

(no ratings yet)

Thanks for your rating!
Usually ships in 2 - 3 working days
---
Product Features
K 105 Supercardioid Capsule
Low Self-Noise
Transformerless
Good Pop Shielding Without Side Effects
Includes Stand Clamp
---
Email me when stock arrives
The black KMS 105 microphone from Neumann has been specifically developed to optimally and clearly transmit the human voice within the demanding conditions present on a live stage. The high acoustic resolution and smooth frequency response of the microphone ensure that the musician has control of their performance at all times.
The microphone is also ideal for use with in-ear monitoring systems due to its low self-noise and colouration-free crosstalk behaviour, while the supercardioid characteristic of the capsule is particularly good at suppressing sounds originating from the entire 180° hemisphere behind the microphone.
Key Features
Acoustic Features
The studio condenser capsule provides the basis for transmitting all the nuances of the human voice
Delivers high acoustic transparency, wide frequency range, and a fine resolution of transients when compared to other mostly dynamic handheld microphones
Carefully adjusted acoustic filters and transformerless impedance convertors can handle very high sound pressure levels that prevent the microphone from being overloaded even by strong plosive sounds
In spite of good pop protection, sibilants and "S" sounds are transmitted with their natural accentuation without added harshness
The acoustic filters are designed so that the distinctive directional characteristics of the capsule are preserved even in the bass range
The filters ensure a very high level of feedback protection when used with a stage sound system
Electrical Features
Since vocal microphones are typically addressed at close range, electronic compensation is used to adjust for the proximity effect in the capsule
Built-in high-pass filter with a 120 Hz cutoff frequency
132 dB dynamic range
150 dB maximum sound pressure level
Low self-noise level permits the microphones to be used at high gain levels without the risk of additional noise
Even at large distances the microphones operate with a high signal-to-noise ratio, allowing the freedom of movement and creativity that can be important to an artist
Transformerless output circuit allows the microphone signals to be transmitted through long cables without loss of sound
Mechanical Features
Robust construction for dealing with the demands of live performance
Thick-walled metal housing provides effective protection against handling noise
Microphone head grille is made of hardened steel
If required, the grille can easily be unscrewed to permit cleaning of the interior acoustic filters
Operating Principle
Pressure gradient transducer
Directional Pattern
Supercardioid
Frequency Range
20 Hz to 20 kHz
Sensitivity
4.5 mV/Pa @ 1 kHz into 1kΩ
Impedance
50 Ω
Load Impedance
1 kΩ
Equivalent Noise Level
CCIR: 28 dB
A-weighted: 18 dB-A
Signal-to-Noise Ratio
66 dB CCIR (relative 94 dBSPL)
76 dB A-weighted (relative 94 dBSPL)
Maximum SPL
150 dB for THD 0.5%
Maximum Output Voltage
12 dBu
Dynamic Range
Microphone Amp: 132 dB (A-weighted)
Phantom Power
48V, +/-4V
Current Consumption
3.5 mA
Connector
XLR 3 male
Diameter
48 mm
Length
180 mm
Weight
Approximately 300 g
In The Box
Neumann KMS 105 - Live Vocal Condenser Microphone (Black)
Matching Stand Clamp
Padded Nylon Bag
Reviews
(no ratings yet)
Own or use this product?
Give it a quick rating:
Thanks for your rating!
Share your thoughts with other customers:
Write a review
Product:

Neumann KMS 105 - Live Vocal Condenser Microphone (Black)

Manufacturer:

Model:

KMS 105 BK

SKU:

KMS 105 BK

RM Product #:

31056