Shure WL184 Lavalier Microphone

Product #3901
SKU WL184


(no ratings yet)

Thanks for your rating!
Usually ships in 2 - 3 weeks
---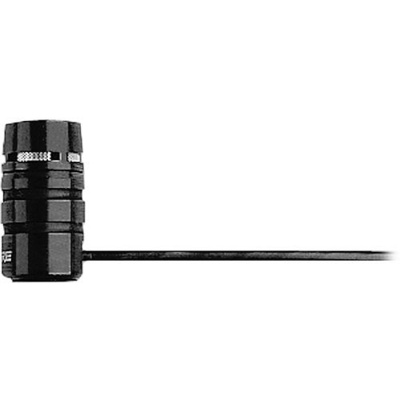 ---
Shure WL184 Lavalier Microphone
Product #3901 | SKU WL184
|

(no ratings yet)

Thanks for your rating!
Usually ships in 2 - 3 weeks
---
Product Features
Subminature Profile
Super-Cardioid Polar Pattern
Full Signal Reproduction
TA4-Female Connection
---
Email me when stock arrives
The Shure WL184 is a super-cardioid subminiature lavalier microphone with signal characteristics ideal for general sound reinforcement applications. The super-cardioid pick up pattern provides adequate rejection of off-axis ambient signal that can cause noise and feedback. The low-profile subminiature design is ideal for applications where the microphone must be concealed. The hardwired 4 foot cable terminates to a 4-pin TA4-female connector which is compatible with Shure wireless transmitters and power supplies.
Key Features
Subminature Profile
The miniature capsule is easy to conceal during video, broadcast, stage and sound reinforcement applications.
Super-Cardioid Polar Pattern
The super-cardioid polar pattern effectively minimises noise and ambiance at the off-axis sections of the capsule, reducing noise and feedback.
Full Signal Reproduction
A wide frequency response and high SPL rating results in full, clear audio reproduction for speech.
TA4-Female Connection
The hardwired cable terminates to a TA4-female connection, compatible with Shure wireless microphone transmitters.
| | |
| --- | --- |
| Transducer | Electret Bias |
| Polar Pattern | Super-Cardioid |
| Frequency Response | 50Hz to 17kHz |
| Dynamic Range (Typical) | 102dB |
| Signal-to-Noise Ratio | 27dB SPL (A-weighted) |
| Maximum Input Sound Level | 129.5dB |
| Power Requirements | Regulated Nominal +5 Vdc (2 Vdc to 10 Vdc) |
| Output Impedance | 18 kHz |
| Output Connectors | TA4-Female |
| Pad | No |
| Low Frequency Roll-Off | No |
| Dimensions | Cable length: 1.2 metre |
| Weight | not specified by manufacturer |
Reviews
(no ratings yet)
Own or use this product?
Give it a quick rating:
Thanks for your rating!
Share your thoughts with other customers:
Write a review
Product:

Shure WL184 Lavalier Microphone

Manufacturer:

Model:

WL184

SKU:

WL184

RM Product #:

3901

Polar Pattern:

Super Cardioid

Element Type:

Bias