Sennheiser MKE 600 Shotgun Microphone

Product #17698
SKU 505453


(no ratings yet)

Thanks for your rating!
In stock with supplier
Usually ships in 2 - 3 working days
---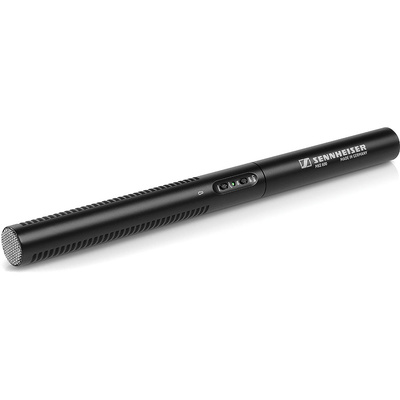 ---
Sennheiser MKE 600 Shotgun Microphone
Product #17698 | SKU 505453
|

(no ratings yet)

Thanks for your rating!
In stock with supplier
Usually ships in 2 - 3 working days
---
Product Features
For Camcorders and Video DSLRs
Highly Directive
Compact Size
Switchable Low-Cut Filter
---
Email me when stock arrives
The MKE 600 from Sennheiser is a shotgun microphone designed for use with a camcorder or video DSLR. Building on the company's extensive expertise in designing shotgun microphones, it is able to take on even the toughest video sound challenges, while still being compact and short relative to previous models. With its high level of directivity, the microphone focuses on the sounds in front of the camera, while attenuating unwanted sound coming from the sides and rear.
An included foam windshield reduces the effect of wind noise, while a switchable low-cut filter adds additional wind and handling noise attenuation. The MKE 600 can be phantom powered or operated on an AA battery for about 150 hours. An integrated camera shoe and shock mount provides convenient on camera mounting. The rugged and all metal housing means the microphone will function perfectly in outdoor recording situations.
Key Features
Flexible use on any camera due to compact form
Exceptional directivity
Maximum rejection of side noise
Switchable low-cut filter
Phantom or battery powering
Battery switch with "Low Batt" indicator
All-metal housing
Very good suppression of structure-borne noise
Minimises wind and handling noise
Supplied with foam windshield and shock mount
Effective wind noise suppression with optional blimp
Polar Pattern
Super-cardioid/Lobar
Frequency Response
40 Hz to 20 kHz
Sensitivity
-21 mV/Pa with 48 V powering
-19 mV/Pa with battery powering
Maximum Sound Pressure Level (SPL)
132 dB with 48 V powering
126 dB with battery powering
EIN
15 dB(A) with 48 V powering
16 dB(A) with battery powering
Low Frequency Roll-Off
Yes
Power Requirements
48 V +/-4 V (P48, IEC 61938) via XLR-3 or AA size battery/rechargeable battery (1.5/1.2 V)
Current Consumption
4.4 mA with P48 powering
Battery Operation Times
Approximately 150 hours
"Low Batt" Indicator: <1.05 V with approximately 8 hours of remaining operating time after initial display
Output Connectors
1 x XLR
Operating Temperature
-10 to 60°C
Dimensions
Diameter: 20 mm
Length: 256 mm
Weight
128 g without battery
In The Box
Sennheiser MKE 600 Shotgun Microphone
Shock Mount for Camera Light-Shoe
Foam Windshield
Carry Pouch
Limited 1-Year Warranty
Reviews
(no ratings yet)
Own or use this product?
Give it a quick rating:
Thanks for your rating!
Share your thoughts with other customers:
Write a review
Product:

Sennheiser MKE 600 Shotgun Microphone

Manufacturer:

Model:

MKE600

SKU:

505453

RM Product #:

17698