Sennheiser EW312 G3-B Omni Lapel Microphone Presenter System

Product #9913
SKU 503334


(no ratings yet)

Thanks for your rating!
- show branch stock
---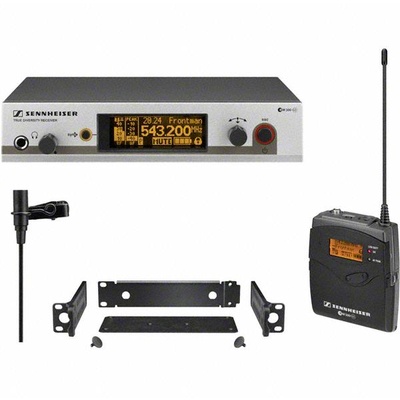 ---
Sennheiser EW312 G3-B Omni Lapel Microphone Presenter System
Product #9913 | SKU 503334
|

(no ratings yet)

Thanks for your rating!
- show branch stock
---
Microphone body pack system with ME2 lavalier mic
---
The Sennheiser EW312 G3-B - Omni Lapel Mic Presenter System provides dependable performance for both speech and performance applications and includes a UHF diversity receiver, bodypack transmitter and ME2 lavalier microphone. The transmitter and receiver synchronize channel and frequency at the touch of a button.
The bodypack allows you to charge the (optional) rechargeable pack while it remains in the transmitter. The receiver's back-lit display allows for easy operation under dimly-lit conditions and its user friendly menu makes operation quick and easy. The EW312 G3 is at home in theaters, clubs, town halls, houses of worship, DJ applications and more.
Sturdy metal housing (transmitter and receiver)
42MHz bandwidth: 1680 tunable UHF frequencies for interference-free reception
Enhanced frequency bank system with up to 24 compatible frequencies
Ethernet port for connecting to the Wireless Systems Manager (WSM) software for control via computer, this delivers a good overview of monitoring and professional data management for multi-channel systems
High-quality true diversity reception
Pilot tone squelch for eliminating RF interference when transmitter is turned off
Automatic frequency scan feature searches for available frequencies
Enhanced AF frequency range
Increased range for audio sensitivity
Wireless synchronization of transmitter parameter from receiver
User-friendly menu operation with more control options
Illuminated graphic display, receiver also shows transmitter settings
Auto-Lock function avoids accidental changing of settings
HDX compander for crystal-clear sound
Transmitter feature battery indication in 4 steps, also shown on receiver display
Programmable Mute function
Integrated Equalizer and Soundcheck mode
Contacts for recharging BA 2015 accupack directly in the transmitter
Wide range of accessories adapts the system to any requirement
Product Highlights
Frequency A / 626 - 668 MHz
UHF Receiver
Bodypack Transmitter
ME2 Omni Lavalier Microphone
Ethernet Port
42 MHz Bandwidth
1680 Tunable UHF Frequencies
24 Compatible Frequencies
Delivery Includes
1x EM 300 G3 rack-mount receiver
1x SK 300 G3 bodypack transmitter
1x ME 2 clip-on microphone (omni-directional)
1x GA 3 rack mount
1x NT 2 power supply unit
2x antennas
2x AA batteries
Operating instructions
Specifications
System
Type of System:
True Diversity UHF Wireless Lavalier System
RF Carrier Frequency Range:
626 - 668 MHz
Overall Frequency Response:
25Hz - 18kHz
Signal-to-Noise Ratio:
> / - 115dBA
# Of Channels:
1680 (20 Channel Banks, 6 Fixed Banks, 24 Factory Preset Channels Each)
Receiver
Type of Receiver:
EM300 Half-Rack Mountable True Diversity UHF
Type of Outputs:
Balanced XLR / Unbalanced 1/4" Phone
Headphone Monitoring:
1/4" Phone (Front Panel)
Power Requirements:
12VDC
Display:
Back-lit LCD Display
Mounting Options:
GA 3 Rackmount Kit (Included)
Antenna Type:
BNC Type x5
Dimensions:
202 x 212 x 43mm
Weight:
980g
Transmitter
Type of Transmitter:
SK300 Bodypack Transmitter
Type of Input Connector:
Locking 1/8" (3.5mm) Mini
Type of Microphone:
ME2 Lavalier Microphone
Polar Pattern:
Omnidirectional
Interchangeable Mic Head:
No (Locking 1/8" mini input on bodypack accommodates compatible microphones)
Battery Type/Approx. Life:
AA 1.5V Batteries x2 (8 Hours Typ.)
Mute Switch:
Programmable Mute Function
Level Control:
Yes
Antenna Type:
1/4 Wave
Display:
Back-Lit LCD
Dimensions (WxDxH):
82 x 64 x 25mm
Weight:
160g
Reviews
(no ratings yet)
Own or use this product?
Give it a quick rating:
Thanks for your rating!
Share your thoughts with other customers:
Write a review
Product:

Sennheiser EW312 G3-B Omni Lapel Microphone Presenter System

Manufacturer:

Model:

EW312 G3-B

SKU:

503334

RM Product #:

9913

System Type:

Lavalier System