Behringer Active DI20 Box

Product #2315
SKU BEDI20


(no ratings yet)

Thanks for your rating!
Usually ships in 2 - 3 working days
---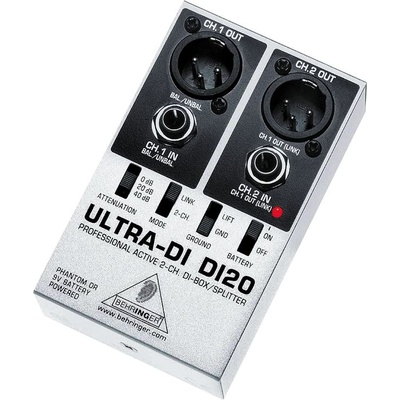 ---
Behringer Active DI20 Box
Product #2315 | SKU BEDI20
|

(no ratings yet)

Thanks for your rating!
Usually ships in 2 - 3 working days
---
Professional Active 2-Channel DI-Box-Splitter
---
Email me when stock arrives
The ULTRA-DI DI20 is a one-of-a-kind DI (direct injection) box that can convert up to two separate unbalanced 1/4" TRS lines into two balanced XLR outputs, or function as a signal splitter. Electric guitarists, keyboardists and bassists will love the flexibility this incredible box provides.
Mono, Stereo or Double the Amps
By flipping a switch, you can use the DI20 as a launching pad for two separate mono signals, a stereo signal, or a split-signal feeding two separate amps. The DI20 also features a ground lift switch and the 3-position input attenuator can accommodate input levels of up to +48 dBu. This handy built-in attenuator allows you to connect to your amplifier's speaker outputs, even amps rated as high as 3,000 Watts. You can power the DI20 with either a 9 V battery or your mixer's phantom power supply (+18 to +48 V DC). The whole package is wrapped in an ultra compact, road-suitable and rugged metal housing.
Be Direct
If you're a working musician who demands uncompromising functionality and durability, the ULTRA-DI DI20 will astound you—and so will its very affordable price tag. See what the DI20 can do for your sound today at your nearest BEHRINGER dealer.
Details
Converts 2 separate unbalanced 1/4'' TRS line inputs into 2 balanced XLR outputs
Ultra-flexible: mono, 2-channel or stereo DI box operation with switchable Link mode
Additional Split mode (channel 1 assigns the signal to both XLR outputs)
Phantom or 9 V battery powered
Switchable input attenuation allows connection to outputs with up to 3,000 Watts
Input 2 usable as channel 1 Link output (additional to XLR output)
Ground lift switch eliminates typical ground loop problems
Ultra-compact, road-suitable housing
High-quality components and exceptionally rugged construction ensure long life
Conceived and designed by BEHRINGER Germany
For more information, or for downloadable PDFs visit the product page at Behringer.com
Reviews
(no ratings yet)
Own or use this product?
Give it a quick rating:
Thanks for your rating!
Share your thoughts with other customers:
Write a review
Product:

Behringer Active DI20 Box

Manufacturer:

Model:

B-DI20

SKU:

BEDI20

RM Product #:

2315