---
Buy Together & Save!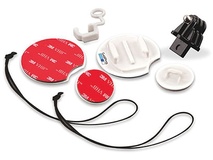 GoPro Surfboard Mounts
---
Overview
Works with HERO 3, HERO 3+ and HERO4 cameras
The GoPro Surfboard Mounts feature two mounts and come with two camera tethers, two tether straps, one FCS plug and one rubber locking ring. The mounts are ideal for attaching your GoPro camera to a surfboard, standup paddle board, sea kayak, boat deck, and other water gear where maximum holding strength is needed.
Key Features
The GoPro Surfboard Mounts feature two mounts and come with two camera tethers, two tether straps, one FCS plug and one rubber locking ring. The mounts are ideal for attaching your GoPro camera to a surfboard, standup paddle board, sea kayak, boat deck, and other water gear where maximum holding strength is needed.
Includes FCS compatible male plug to mount GoPro camera using FCS center fin socket