NITECORE TM26GT Flashlight

Product #31387
SKU TM26GT


(no ratings yet)

Thanks for your rating!
Usually ships in 2 - 3 working days
---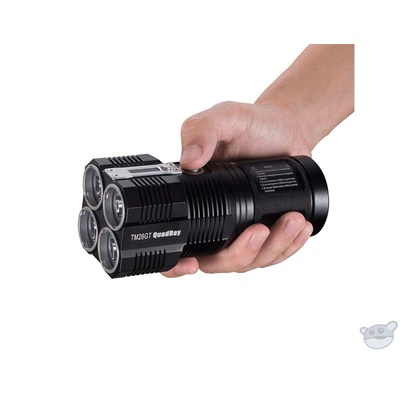 ---
NITECORE TM26GT Flashlight
Product #31387 | SKU TM26GT
|

(no ratings yet)

Thanks for your rating!
Usually ships in 2 - 3 working days
---
Extremely powerful light ideal for outdoor uses and security
---
Email me when stock arrives
The TM26GT is a longer-throwing upgrade to its TM26 predecessor. Boasting 273 more yards of throw to reach an incredible 770 yards, this light uses a CREE XP-L LED, which has 200% more intensity than the XM-L2 LED used in the TM26. 3500 lumens' worth of output assures the whole area around you will be lit up with great intensity. Recharge your light anywhere with the included adapter, and keep tabs on the remaining battery run times, internal temperature, and brightness levels with the clear OLED screen on the light. 5 brightness levels and three special modes of SOS, strobe, and beacon mean you will be prepared in any scenario. The light can even run using 1/4 of its batteries in emergency situations (1 x 18650 versus the regular 4 or 2 x CR123A versus 8).
Weighing in at less than a pound, this extremely powerful light should be taken anywhere with ease. It is perfect for law enforcement, searching, camping, hiking, exploring, security, and other outdoor adventures that require great luminosity or beam throw. This flashlight includes a charger, quality holster, lanyard, and spare O-ring.
Specifications:
Max Output: 3500 Lumens
Max Beam Distance: 704M / 770 Yards
Max Beam Intensity: 124000Cd
Max Run time: 1000Hours / 41.67 Days
LED: CREE XP-L HI V3
Reflector: SMO
Battery: 4 × 18650, 8 × CR123
Beam Color: White Light
Length: 142 mm / 5.59 in
Head Size: 68 mm / 2.68 in
Weight: 442 g / 15.59 oz
Features:
Small and Lightweight 3500-lumen LED Flashlight
Utilizes 4 x CREE XP-L HI V3 LEDs
Integrated multi-function OLED Display
Incorporates Precision Digital Optics Technology(PODT)
Maximum intensity of 124,000cd
Beam distance up to 704 meters
Thermal Protection circuit prevents overheating
Compatible with both 18650 li-ion and CR123 batteries
Intelligent charging circuit with voltage detection for safe and fast charging
Exceptionally long runtime using 4 x 18650 li-ion or 8 x CR123 batteries
Capable of running on 1 x 18650 or 2 x CR123 batteries in emergency situations
Eight rapidly switchable brightness levels and modes to select from
Innovative single button two-stage switch provides a user-friendly interface
Toughened ultra-clear mineral glass with anti-reflective coating
A Power indicator built into the on/off switch indicates remaining battery power
Reviews
(no ratings yet)
Own or use this product?
Give it a quick rating:
Thanks for your rating!
Share your thoughts with other customers:
Write a review
Product:

NITECORE TM26GT Flashlight

Manufacturer:

Model:

TM26GT

SKU:

TM26GT

RM Product #:

31387