Sigma 18-250mm F3.5-6.3 DC Macro OS HSM for Nikon F Mount

Product #21255
SKU 883955


(no ratings yet)

Thanks for your rating!
Usually ships in 1 - 2 weeks
---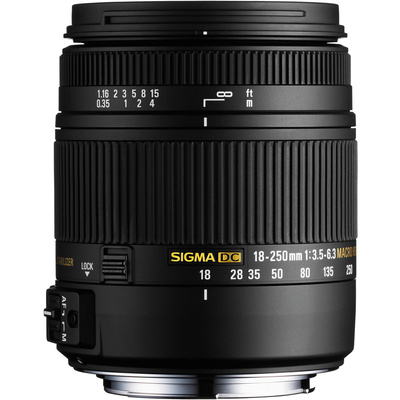 ---
Sigma 18-250mm F3.5-6.3 DC Macro OS HSM for Nikon F Mount
Product #21255 | SKU 883955
|

(no ratings yet)

Thanks for your rating!
Usually ships in 1 - 2 weeks
---
Product Features
Wide-Angle to Telephoto Zoom Macro Lens
For Nikon APS-C Cameras Only
Optical Stabilisation (OS)
Hyper-Sonic Motor (HSM)
Thermally Stable Composite Material
---
Email me when stock arrives
If you have a Nikon camera with a smaller-size APS-C sensor and F mount, then the 18-250mm F3.5-6.3 DC Macro OS HSM from Sigma is an incredibly versatile lens that is a real jack-of-all-trades lens you can carry in any situation. With a focal length spanning from a wide-angle 18mm up to a 250 mm telephoto zoom, with macro capabilities to boot, Sigma's 18-250mm could easily be your camera's first all-in-one lens, or a great replacement for several smaller lenses that you're looking to consolidate.
Sigma redesigned the optical and structural design of this lens in order to achieve a relatively compact size, at 10.2 cm long, as well as a close minimum focusing distance of 35 cm for macro photography. Their Thermally Stable Composite (TSC) construction maintains the structure of the lens, with little variation despite changing temperatures. The lens also incorporates a brass-made bayonet mount, to further reinforce the lenses durability and resistance to wear and tear over time.
The minimum focusing distance is the same throughout the focal length of the entire zoom range, and provides a maximum magnification ratio of 1:2.9. As an added benefit over fixed focal length macro lenses, the size and framing of subjects can quickly and easily be adjusted by rotating the zoom ring. For even further convenience, at each focusing distance on the side of the lens barrel, the maximum magnification ratio is also displayed.
The 18-250mm F3.5-6.3 DC Macro OS HSM has been built with Sigma's exclusive Optical Stabiliser (OS) function. This provides approximately 4-stops of effective camera correction, allowing for lower-light shooting, or greater sharpness in adequate lighting situations. This benefit is even carried into the macro range of photography, where the slightest bump or blur could easily ruin an image. This stabiliser is also adaptive to moving subjects, detecting your movement as you pan the camera and lens, offering effective correction there as well.
For high image quality, you know you'Voe got to have high-quality glass, and Sigma has incorporated their Special Low Dispersion (SLD) glass element into the 18-250mm. In addition to the SLD element, three aspherical lenses, including a double-sided aspherical lens, have been used in the lens' construction--offering excellent correction of colour aberration, for better clarity and quality of images throughout the zoom range.
A Super Multi-Layer Coating has also been employed to reduce flare and ghosting with this lens. This makes it resistant to strong incident light, such as backlight behind a subject, providing sharper, high contrast images even shooting into a light source. To prevent internal reflections from occurring, the included petal-type lens hood can be attached in order to block out extraneous light.
For a lens that offers a wide-angle to telephoto focal length, the ability to zoom-in with macro photography, and provides Optical Stabilisation built-in, Sigma's 18-250mm F3.5-6.3 DC Macro OS HSM made for Nikon cameras is more than a match. Whether you're on a macro product shoot, a walk in the park, or have a wedding to go to, this lens will help you shoot high quality images in any situation.
Key Features
Possibilities as Wide as its Zoom Range
Going from an 18mm wide-angle lens in the park, to an 85mm portrait lens at a wedding, and later attaching a heavy 250mm lens for wildlife or sport photography means you'll have to carry pounds of gear around with you, by hand or on your back, all day long. With the 18-250mm F3.5-6.3 DC Macro OS HSM, you won't have to risk dust entering your Nikon camera body, dropping one of your lenses as the bride's aunt runs into you with a glass of wine, or fumbling to switch to your zoom lens as you watch an eagle soar away--missing opportunities because you had the wrong lens at the time
In Close, or Wide Open
Not only is the zoom range excellent for a variety of situations, but the focus range is also conducive to macro photography--with the added benefit of zooming in on the tiniest textures or creatures. With a maximum magnification ratio of 1:2.9 you can get an up-close and personal shot of the petals of a flower, then immediately zoom out and catch a group photo before anyone blinks
Compact Construction
Incorporating double-sided aspherical lenses, and redesigning the lenses construction, Sigma has made improvements in keeping this lens at a relatively compact size, yet still achieving an outstanding zoom range. The filter thread diameter has been reduced to 62mm--while, with a 13x zoom range, the length of the lens still remains a mere 3.4" long
Tough Exterior, yet Quality Interior
While the design and construction of the lens has kept it relatively compact, the new Thermally Stable Composite (TSC) material has been used to keep it strong and resistant to weathering effects. In addition, a brass made bayonet mount reinforces the strength applied to the surface of the lens. The combination of these features leads to reduced contractility with changing temperatures, a higher quality of lens construction, and allows for slimmer parts to be used--keeping it compact and strong
Holding Steady
Sigma has incorporated their unique Optical Stabiliser (OS) function that offers effectively 4-stops of correction. This makes it possible to compensate for camera shake even in the close-up macro range of photography where a small blur can be detrimental to an image. Even when photographing moving subjects, such as those in sports, the OS function automatically detects the camera's movement and offers effective correction for potential camera shake. The stabiliser's effectiveness does gradually decrease as the shooting distance becomes shorter, however, and is not available on Sony or Pentax camera mounts
Flares, Aberrations, and Ghosting. Oh my!
Everybody says you should invest in your glass, and Sigma's 18-250mm provides just the way for you to do that. With three Aspherical glass elements that offer correction for distortion. Four Special Low Dispersion (SLD) glass elements that provide optimum colour correction and sharpness, as well as a Super Multi-Layer lens coating that reduces flare and ghosting. This array of optical features assure high image quality throughout the entire zoom range, and widely varying lighting situations
Performance
Focal Length
18 - 250mm
Aperture
Maximum: f/3.5 - 6.3
Minimum: f/22
Camera Mount Type
Nikon F
Format Compatibility
DSLR (APS-C Sensor)
Angle of View
76.5° - 6.5°
Minimum Focus Distance
35.05 cm
Maximum Reproduction Ratio
1:3
Optical Design
13 Elements in 16 Groups
Diaphragm Blades
7
Features
Image Stabilisation
Yes
Autofocus
Yes
Physical
Filter Thread
Front: 62 mm
Dimensions (DxL)
Approx. 7.37 x 8.89 cm
Weight
.47 kg
In The Box
Sigma 18-250mm F3.5-6.3 DC Macro OS HSM for Nikon F Mount
Petal-Type Lens Hood (LH680-04)
Front Lens Cap (LCF II)
Rear Lens Cap (LCR)
Reviews
(no ratings yet)
Own or use this product?
Give it a quick rating:
Thanks for your rating!
Share your thoughts with other customers:
Write a review
Product:

Sigma 18-250mm F3.5-6.3 DC Macro OS HSM for Nikon F Mount

Manufacturer:

Model:

883955

SKU:

883955

RM Product #:

21255

Maximum Aperture:

f/3.5-6.3

Zooms/Primes:

Zoom Lenses

Lens Type:

All-In-One Zoom