---
Buy Together & Save!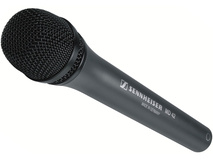 Sennheiser MD42 Dynamic Omnidirectional Microphone
---
Overview
The Sennheiser MD42 - Dynamic Omnidirectional Microphone is a rugged handheld microphone designed for electronic-news-gathering (ENG) and field production (EFP) applications. The dynamic capsule features an omnidirectional polar pattern and that ensures maximum intelligibility without having the microphone pointed directly at the talker. The rugged MD-42 is built to withstand the rigors of use on the road. Shock-mounted capsule ensures low handling noise. The MD-42 is a professional choice for interviews, live broadcasts and more.
Omnidirectional Polar Pattern - The omnidirectional polar pattern picks up audio accurately without pointing the microphone directly at the talker.
Rugged Construction - The MD-42 features a durable metal housing and shock mounted capsule for maximum protection against the rigorous use on the road.
Sound Inlet Basket - Protective sound-inlet basket lines the metal capsule and protects against wind noise
Features
Two-ply sound inlet basket provides increased protection from wind and pop noise
Rugged metal housing
Rubber mounted capsule (or Elastically mounted capsule) ensures low sensitivity to handling noise
Omni-directional pick-up pattern ensures excellent speech intelligibility without having to point the microphone directly at your interview partner
Delivery Includes
Specifications:
Transducer principle (Microphone): dynamic
Pick-up pattern: omni-directional
Frequency response: 40 - 18 000 Hz
Sensitivity in free field, no load (1kHz): 2,0 mV/Pa
Nominal impedance: 350 Ohm
Min. terminating impedance: 1000 Ohm
Connector: XLR-3
Dimensions: 49 x 250 mm
Weight: 360 g