---
Buy Together & Save!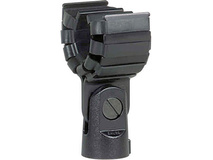 Shure A55HM Half Surround Shock Isolator
Related Products
---
Overview
The A55HM Snap-In Shock Stopper from Shure is a half-mount isolation mount and swivel adapter. The mount has standard threads for use with a variety of mic stands and boom arms. The half-mount design provides quick and convenient mounting and unmounting of microphones, and the built-in elastics provide isolation from unwanted vibrations. The mount is compatible with virtually any tapered microphone, including the SM57, SM58, SM86, Beta 57A, Beta 58A, and Beta 87C.