Teenage Engineering OP-Z Dream Machine
Product #56304 | SKU OP-Z
(based on 4 ratings)
Thanks for your rating!
---
---
---
Portable 16-track sequencer with built-in synthesis and sampling, plus sequencing for MIDI, CV/Trig, image/3D graphics and DMX lighting
Customer Reviews
(based on 4 ratings)
Thanks for your rating!
Product Details
Product: #56304
SKU: OP-Z
---
Buy Together & Save!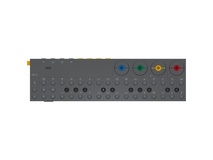 Teenage Engineering OP-Z Dream Machine
---
Overview
The Teenage Engineering OP-Z Dream Machine is a hot rodded version of the legendary OP-1 portable synth, now with more DSP and much smaller footprint for your stage or studio setup. It is completely standalone providing a 16-track sequencer, built-in synth and a top notch sampler. It is fully compatible with MIDI, CV/Trig, Image/3D and DMX lighting.
Each of the 16 tracks within the sequencer can be modified to be completely unique, allowing the customization of individual track speed and length. To take that one step further, Teenage Engineering now includes a feature called Step Components. This second layer on the sequencer helps take the sound to a whole new level, allowing you to add variation per cycle, note variation, micro sequencing, direction, parameter changes, re-trigs and more, all individually per step in the sequence.
Another powerful new feature is the Catch Up function, which forces a track to exit the current sequence at a certain step in order to stay in sync with everything else, very useful feature if you have detailed layering in a single step on the sequencer. From the 14 components spread across the three main function groups (triggers, note variations and specials) and 10 unique programmable values within those groups, there are 140 ways to modify and customize a single step within your sequence.
With the live user in mind, the OP-Z provides back-lit, multi-color LEDs and special glow in the dark paint (which is a "world's first" on a pro synth) to make it easy to perform in a low light club environment or compose in the comfort of your bed.
Although the OP-Z can be used as a standalone synth, it features integrated BYOS ("Bring Your Own Screen") functionality for those more comfortable working "in the box". Simply download the OP-Z app and pair the Dream Machine to your phone or tablet for full on graphic control of each parameter. This will also connect other phone features such as dropbox or your internal camera to sync photos or video to your live sequences without any extra cabling.
To be a top notch VJ, custom content is a necessity. Teenage Engineering teamed up with Keijiro Takahashi and Unity Tokyo Studio to integrate OP-Z with the unity game engine, which now delivers 3D graphics that fun full speed in real-time on iPhone or iPad. This allows the user to customize every single polygon in the visual performance then use the OP-Z to sync those moving images with custom sequences.
Key Features:
160 user-programmable patterns
Endless patterns chaining
Upgradeable modular effects architecture: delay, reverb, filters, tremolo
14 multi-program step components for advanced step sequencing
When paired or connected to an iOS device, the iOS device will act as a screen for OP-Z
OP-Z iOS app will be free to download from app store
Compatible with any iOS device that is Apple metal graphics specified
Dual domain synthesis for extreme low latency performance
6 axis motion sensor (g-force) assignable to any synthesizer parameter
Bluetooth 5.0 LE
Battery: 2 years stand-by time
USB Type C and 3.5 mm 4-pole jack connector
2 octaves of musical keys
51 mechanical keys in total
Pressure sensitive pitch bend
4 x multi purpose color coded high resolution encoders
Volume knob / on switch
Pairing button
53 LED indicators
Integrated MEMS microphone
Ultra rigid engineering plastic housing
Sequencing:
Step component composing
Endless sequencing steps
Track independent length
Track independent speed
Parameter locks
Step recording
Live recording
MIDI, CV and trig track sequencing
Image and 3D graphics sequencing
DMX light sequencing
Tracks:
16 individual and independent synthesis, sampler and control tracks
Kick
Snare
Percussion
Sampler
Bass
Lead
Arpeggio
Chords
FX slot 1
FX slot 2
tape
Mixer
MIDI
CV & rig
Light
Motion
Specifications
Input / Output
USB
USB Type-C
Line In/Out
3.5 mm 4-pole jack
Microphone
Integrated MEMS microphone
Controls / Indicators
Sensors
6 x axis motion sensor (g-force) assignable to any synthesizer parameter
Control Input
Tactile input
2 octaves of musical keys
51 mechanical keys in total
Pressure-sensitive pitch bend
4 x multipurpose, color-coded, high-resolution encoders
Volume knob / on switch
Pairing button
Indicator LEDs
LED Indicators: 53
Encoder
Type
Teenage Engineering-designed floating ball bearing, hall-sensor encoders for minimal stacking height and wear
Battery
Battery Life
Standby: 2 years
Charging
Via USB port
General
Hardware
Analog Devices Blackfin 70X DSP
Cirrus Logic audio coprocessor
1250 MMACS
48 kHz/24-bit DAC
115 dB Dynamic Range
Material of Construction
Ultra-rigid engineering plastic
Housing
IXEF 1022 PARA + 50% glassfiber
Dimensions (L x H x D)
212.5 x 57.5 x 10.0 mm
Length for Volume Knob: 5.0 mm