Tiffen 77mm Pro-Mist (F/X) Filter 1/4

Product #8041
SKU 77PM14


(no ratings yet)

Thanks for your rating!
Usually ships in 6 - 9 working days
---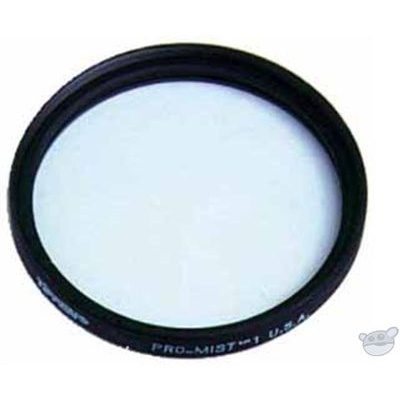 ---
Tiffen 77mm Pro-Mist (F/X) Filter 1/4
Product #8041 | SKU 77PM14
|

(no ratings yet)

Thanks for your rating!
Usually ships in 6 - 9 working days
---
Professional quality soft focus filter 1/4
---
Email me when stock arrives
The Tiffen 77mm Pro-Mist F/X 1/4 Filter is a soft focus filter. The Pro-Mist filter is exceptional for creating a special mood.
Outdoors or indoors, in broad scenics or portraits, the Pro-Mist is excellent for toning down excessive sharpness and reducing contract by moderately lightening shadow areas without detracting from the overall image. This is especially useful given the contrast and extremely sharp resolution produced by contemporary film and video lenses.
Pro-Mist filters give your portraits that extra edge of professionalism. The various grades allow you to soften contrast to whatever degree you feel your subject requires.
Note! Pro-Mist F/X Filters are available in grades from one-half through five, with grade 5 having the greatest effect; Effect of lighter grades is subtle, with higher grades becoming gradually more noticeable
Benefits
Creates a special atmosphere by softening excess sharpness and contrast
Generates a pearlescent halo around highlights
Lighter grades are useful in toning down the excessive sharpness and contrast of contemporary film and lens combinations
ColorCore Technology
Tiffen filters are manufactured using ColorCore technology, a closely guarded proprietary process that entails permanently laminating the filter material in between two pieces of optical glass that are ground flat to tolerances of a ten-thousandth of an inch, then mounting them in precision metal rings
The ColorCore process allows Tiffen to control the color and density of their filters, and the characteristics of special effects filters with much greater accuracy than typical dyed-in-the-mass filters, which usually exhibit color and density variations.
Superior Quality
Top Hollywood motion picture studios rely on Tiffen filters for their multi-million-dollar productions Superior quality and design make Tiffen the overwhelming choice of moviemakers, professional photographers and even NASA
Tiffen has also been awarded an Emmy, from the Academy of Television Arts and Sciences, for its engineering excellence
Tiffen, a leader in the filter industry, proudly makes its filters in the USA and backs up its products with a solid 10-year warranty
Reviews
(no ratings yet)
Own or use this product?
Give it a quick rating:
Thanks for your rating!
Share your thoughts with other customers:
Write a review
Product:

Tiffen 77mm Pro-Mist (F/X) Filter 1/4

Manufacturer:

Model:

77PM14

SKU:

77PM14

RM Product #:

8041

Filter Diameter:

77mm