Syrp Genie Deluxe Ballhead Kit

Product #30682
SKU 0030-DLX-KIT


(no ratings yet)

Thanks for your rating!
Usually ships in 3 - 5 working days
---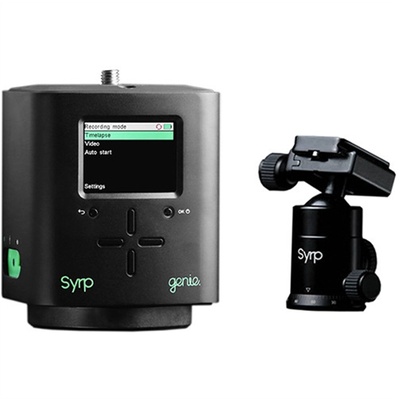 ---
Syrp Genie Deluxe Ballhead Kit
Product #30682 | SKU 0030-DLX-KIT
|

(no ratings yet)

Thanks for your rating!
Usually ships in 3 - 5 working days
---
Product Features
Linear and Panning Motion
Timer or Sensor Input
Preview Function
Quick Release Ball Head
Custom User and Factory Pre-Sets
---
Email me when stock arrives
The Deluxe kit includes the Syrp ballhead, essential for mounting your camera to the Genie, a perfect match for the product and DSLR cameras.
The Genie Motion Control Time Lapse Device from Syrp is your key to the creative world of time lapse photography or real time video. The 10.16 cm cube takes up very little space in your bag and at only 1.5 kg it's easy to make it part of your standard rig.
The Genie, which allows both panning and linear motion control, attaches to standard gear such as dollies, sliders, jib arms and tripods. Simply attach the panning accessory to your tripod or support and mount your optional camera and ball head to the tapped female receiver atop the Genie. The weight of your equipment is rarely a concern since it supports up to 20 kg. An illuminated bubble level is built in to help in setting up for panoramas. The Genie has factory presets such as Stars, People or Clouds but you can enter an unlimited amount of user presets into the Genie's memory for custom work. At maximum panning speed a 360° pan takes 5 seconds, while 99 cm of linear movement takes 23 seconds.
Linear time lapse can be done on a rail or on a linear support system of your own making. While the Genie comes with 3 m of rope to pull it across the rail, the movement of your time lapse is only limited by the length of your rope. Kevlar-cored rope with lengths of 100 m, 50 m or 10 m are available for separate purchase. The Genie has been tested successfully on a homemade 18.3 dual cable stretched over a lake.
Inputs include both USB for firmware and a sensor input. The free firmware upgrade enables ramp-in, ramp-out functions and HDR (High Dynamic Range). Ramping is the process of modifying exposure settings on a camera in order to maintain a desired exposure value while the camera is in Bulb mode. This is especially valuable for transitional day into night, or night into day time lapses.
The sensor input accepts a motion, light, sound or other type of sensor to start your program in response to specific stimuli. The Genie ships with both panning and sliding bases, two slider mounts, 9.85' of rope and a multi-voltage charger for its built-in battery. A three-hour charge gives you about 12 hours of run time, depend on the weight of your camera. The Genie is compatible with approximately 130 cameras from nine major brands.
Key Features
Dual Motion
Panning and linear motion control with one device
Versatile
Attaches to any existing film equipment i.e. Dolly, Slider, Jib Arm etc.
Sensor Input
Auto start function through a timer or sensor or both. Sensor input allows for attachment of a motion sensor, light sensor, sound sensor and more
Preview
Preview function allows for revision of recording movement prior to recording
Pre-Sets
Factory pre-sets allow for instant shooting straight out of the box or storable user-programmable panning and tracking pre-sets
Auto Start and Power Saving
Auto Start enables the user to program camera movements to return to "home" and repeat again or continuously run the same movement. It also enables the user to setup time-lapse or camera movement to start on a delay timer. Auto Power Off shuts down the Genie when it's unused for 1 hour to save battery power
Leveling
Ramping Firmware
Bulb ramping is the process of modifying exposure settings on a camera in order to maintain a desired exposure value while the camera is in Bulb mode. A free firmware upgrade allows ramp-in, ramp-out function and HDR. Current version: 1.1.9
Compatibility
Canon: 7D, 60D, 50D, 40D, 30D, 5D, 20D, 10D, 5D Mark III, 5D Mark II, 1D X, 1D C, 1D Mark IV 1D (s) Mark III, 1D (s) Mark II (N), 1100D(T3), |1000D (XS), 100D (SL1), 700D (T5i), 650D (T4i) 600D (T3i), 550D (T2i), 500D (T1i),450D (XSi), 400D (XTi), 350D (XT), 300D, 300V, 300, 60Da 50E, 50, 33, 30, 3000, Canon Powershot G1X, G10, G11, G12, G15
Nikon D800E, D800, D700, D600, D300S, D300, D200, D4, D3X, D3, D80, D70s, D7100, D7000, D5200 D5100, D5000, D3200, D3100, D90
Sony A900, A850, A700, A580, A550, A500, A450, A350, A300, A200, A100, A77, A65, A58, A55, A35, A33
Pentax K100D, K110D, K10D, K20D, K200D, ist DS2, ist D, ist Ds, ist, ist DL MZ-6, ZX-L, MZ-L, ist DL2
Panasonic DMC-FZ20, DMC-FZ30S, L1, GH1, GH2, GH3, DIGILUX3, DMC-FZ20k, DMC-FZ50K, DIGILUX 2, DMC-GF1 DMCFZ100, DIGILUX2, DMC-FZ20S, DMC-FZ50S, DIGILUX 3, DMCG2, DMC-FZ30, DMC-FZ50, L-10 DMC-G3, DMC-FZ30K, LC-1, DMC-G1, DMC-G10
Olympus E620, E600, E520, E510, E450, E420, E410, EM5, EP3, EP2, EP1, E30, E3, SP-570UZ, SP-560UZ SP-550UZ, SP-510UZ
Fujifilm S5 Pro, S3 Pro
Contax N Digital NX, N1, 645
Samsung GX 1L, GX 1S, GX-10
Maximum Speed

Video mode:
Linear: 100 cm in 23 seconds
Panning: 360° in 5.0 seconds

Power Supply

Input: 110-240VAC, 50/60Hz
Output: 15VDC, 1.5A
For use in: Europe, USA, Canada, Mexico, India, Nigeria, Ghana, Australia, New Zealand, Papua New Guinea, Hong Kong, Singapore, Japan, UAE, South Korea

Battery

Lithium-ion 11.1V

Battery Run Time

Up to 12 hrs. depending on camera weight

Charging Time

3.0 Hrs.

Connectivity

USB x1, Sensor input x1

Head to Tripod Mounting Thread

Bottom: 3/8"-16 and 1/4"-20
Top: 3/8"-16

Dimensions

102 x 102 x 102 mm

Weight

1.5 kg

In The Box
Genie Motion Control Time-Lapse Device
Panning Base
Sliding Base
Rope for Slider (3 m)
2 x Slider Mounts
Multi-Voltage Charger
Ballhead for Genie
Reviews
(no ratings yet)
Own or use this product?
Give it a quick rating:
Thanks for your rating!
Share your thoughts with other customers:
Write a review
Product:

Syrp Genie Deluxe Ballhead Kit

Manufacturer:

Model:

0030-DLX-KIT

SKU:

0030-DLX-KIT

RM Product #:

30682

Battery:

Lithium-Ion Included