---
Product Features
4x High-Quality Rust Free Levers
Spring-Loaded Lever / Screw Mechanism
Positions w/o Bothering Other Components
Customer Reviews
(no ratings yet)
Thanks for your rating!
---
Buy Together & Save!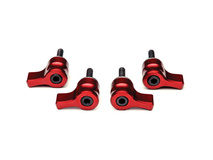 Zacuto Ratcheting Lever Kit - 4 Pieces
Related Products
---
Overview
The Zacuto Ratcheting Lever Kit for Tightening Various Zacuto Components is a set of four high-quality, rust-free levers for use with most Zacuto accessories. Each lever is connected to the screw within it by a spring mechanism. As soon as the screw tightens as far as possible in whatever component you're tightening, you can pull back on the red lever a bit and rotate it in any direction without undoing the screw. The point of doing so is to position the red lever in a way that won't interfere with other accessories.