Blackmagic Design OpenGear Converter - Up Down Cross

Product #11683
SKU CONVOPENGUDC


(no ratings yet)

Thanks for your rating!
Usually ships in 3 - 5 working days
---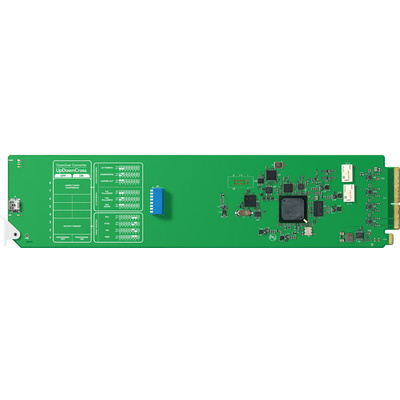 ---
Blackmagic Design OpenGear Converter - Up Down Cross
Product #11683 | SKU CONVOPENGUDC
|

(no ratings yet)

Thanks for your rating!
Usually ships in 3 - 5 working days
---
Product Features
Convert SD & HD Formats
Hot-Swappable Card for OpenGear Frame
Converts 720p to 1080i/p or Vice Versa
Standards Conversion: NTSC & PAL I/O
3 Gb/s SDI
---
Email me when stock arrives
The Blackmagic Design OpenGear Convertor - UpDownCross is a SDI signal convertor/distributor that's fully compatible with the OpenGear standard, for installation in a rack-mounted chassis. (Blackmagic offers several OpenGear frame configurations – sold separately .) This model performs high-quality signal conversion, whether SD to HD, HD to SD, or one HD format to another – 1080i/p to 720 or vice versa. NTSC & PAL conversion (input and/or output of either) is also supported.
The UpDownCross convertor features an auto-switching 3G/HD/SD-SDI input and seven configurable 3G/HD/SD-SDI outputs for flexible, broadcast-quality signal conversion & distribution. There's also a reference input (blackburst & TriSync) and SDI loop output. The convertor adapts SDI audio delay to accommodate the video processing in order to keep everything in sync, and it applies an equaliser, re-clocker, and 10-bit de-serializer to the SDI input signal.
You can update and/or reconfigure the OpenGear Convertor - UpDownCross in three different ways: via the USB 2.0 connection, over a network via Java-based DashBoard software, or by setting its mini switches.
Key Features
Open Architecture Convertor
The OpenGear Convertor - UpDownCross is fully compatible with the OpenGear standard. OpenGear is an open standard for rack-mount convertors and processing for television broadcasters. Blackmagic OpenGear Convertors are compatible with 20-card models of the 2 RU (rack unit) OpenGear frames. Many manufacturers develop OpenGear cards and frames that can be mixed and matched. OpenGear cards are hot-swappable and can be controlled by java-based DashBoard network control and monitoring software on Windows, Mac OS X, and Linux
High Quality, Low Jitter
This OpenGear Convertor is built to the highest quality standards with low SDI jitter. You get the longest SDI cable lengths a true broadcast-quality solution
3 Gb/s SDI Technology
3 Gb/s SDI technology is built into Blackmagic OpenGear Convertors, and future standards can be uploaded via the USB port. 3G-SDI is also fully compatible with all your SD and HD equipment
Auto-Switching Inputs: HD & SD
Blackmagic OpenGear Convertors instantly switch between all SD and HD video formats the instant the video input changes. A huge range of standards are supported, and new formats can be added via USB
Easy to Use
Blackmagic OpenGear Convertors can be set up via mini switches, via a network using DashBoard software, or via USB using Blackmagic Design's Convertor Utility. That's three completely different ways to configure, so in a critical live situation, you're never stuck
Inputs & Outputs
SDI Input
1x, switchable between SD-SDI, HD-SDI, and 3G-SDI
SDI Output
7x outputs automatically match the SD/HD/3G-SDI video input unless up, down, cross and/or standards conversion is enabled.

1x SDI loop output
Reference Input
Blackburst and TriSync for SD & HD
Multi-Rate Support
Auto-detection of HD or SD SDI input; auto-switching automatically selects among SD-SDI, HD-SDI, and 3G-SDI
USB
Updates & configuration via 1x USB 2.0 high-speed (480 Mb/s)
Re-clocking
Yes
Format Information
SDI Format Support
625i25 PAL, 525i29.97 NTSC, 720p50, 720p59.94, 720p60, 1080PsF/23.98, 1080PsF/24, 1080PsF/25, 1080i50, 1080i59.94, 1080i60, 1080p50, 1080p59.94, 1080p60, 2048 x 1080p23.98, 2048 x 1080p24, 2048 x 1080p25, 2048 x 1080PsF/23.98, 2048 x 1080PsF/24, 2048 x 1080PsF/25, 2048 x 1556PsF/23.98, 2048 x 1556PsF/24, 2048 x 1556PsF/25
Compliance
SMPTE 259M, SMPTE 292M, SMPTE 296M, ITU-R BT.656, ITU-R BT.601
Video Sampling
4:2:2
Audio Sampling
Television standard sample rate of 48 kHz and 24-bit
Colour Precision
4:2:2
Colour Space
YUV
Extras
Software Control
Mac OS X and Windows software upgrade via USB
Settings Control
OpenGear DashBoard network control software or mini switches
Firmware Upgrade
Via included firmware updater application
Format Conversion
Up, down, cross conversion and/or NTSC/PAL standards conversion
In The Box
Blackmagic Design OpenGear Converter - Up Down Cross
Firmware Updater Application
3 Year Limited Warranty
Reviews
(no ratings yet)
Own or use this product?
Give it a quick rating:
Thanks for your rating!
Share your thoughts with other customers:
Write a review
Product:

Blackmagic Design OpenGear Converter - Up Down Cross

Manufacturer:

Model:

CONVOPENGUDC

SKU:

CONVOPENGUDC

RM Product #:

11683