Teradek Cube 555 - Wireless SD Video Encoder

Product #15884
SKU TD-CUBE-555


(no ratings yet)

Thanks for your rating!
Usually ships in 3 - 4 weeks
---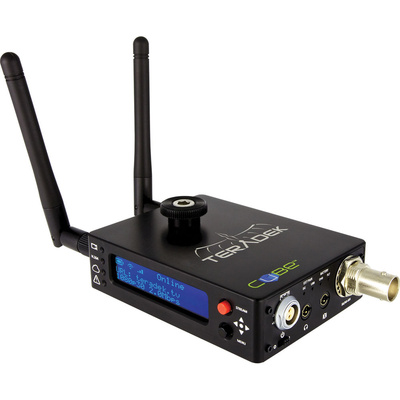 ---
Teradek Cube 555 - Wireless SD Video Encoder
Product #15884 | SKU TD-CUBE-555
|

(no ratings yet)

Thanks for your rating!
Usually ships in 3 - 4 weeks
---
Product Features
Compact aluminium chassis
OLED display
Built-in Li-ion battery
MIMO access point
Micro SD slot enables
---
Email me when stock arrives
The Teradek Cube 555 1-Channel Camera-Top Wireless SD Video Encoder works with composite cameras and streams via dual-band MIMO, Wi-Fi, Ethernet, or a single 3G/4G USB modem.
The Cube 555 includes all the features of the original Cube such as a compact aluminium chassis and comprehensive transport protocol support like RTP/RTSP/RTMP/MPEG-TS. The OLED display enables users to rapidly change and review the settings of their unit in addition to providing real-time feedback for filenames, recording status, and wireless connectivity. No longer are computers or iPads needed for configuration; every feature is a simple click away.
The built-in Li-ion battery gives users up to 90 minutes of runtime, which allows for seamless battery swapping or quick broadcasts. The battery can also be charged from an AC adapter or even a suitable external battery such as an Anton Bauer. The new MIMO access point feature improves wireless performance and enables special features such as wireless camera control for devices without a Wi-Fi capability built in, and ensures improved connectivity from an iPad or Android tablets. Also, a headphone output is integrated for immediate audio monitoring.
The micro SD slot enables Cube to save on-board proxy recordings in real time. The recorded files (.mov or .mp4) are automatically synced with your proxy server over Wi-Fi or cellular connections. It supports nearly every streaming platform on the Web, including Ustream, Justin.tv, Livestream, Youtube Live, and many others.
Video Input
Analogue BNC
Wi-Fi
802.11 a/b/g/n MIMO
Mount
Shoe Mount
Display
OLED Display
Battery
Li-ion Battery
Power Input
2-Pin LEMO Power
Storage
microSD
Ethernet
10/100BASE-T
USB
USB 2.0 host port
Supported Resolutions
576p, 480p
Video Codec
Compression Algorithm: Baseline, Main and High Profile H.264
Main and Baseline profiles
Bit Rate: 250 Kbps to 10 Mbps
Built-in Video Scaler and De-interlacer
Video Streaming Support
Network Protocols: TCP/IP, UDP, HTTP, DHCP, NTP, SSL, IGMP
Transport Protocols: RTP, RTSP, RTP over HTTP, MPEG-TS
RTMP (Adobe Flash Streaming)
HTTP Live Steaming
Point to Point (TCP or UDP), Multiple Unicast (UDP), or Multicast (UDP+IGMP)MPEG-TS is optional.
Audio
Audio Compression: AAC-LC, MPEG Layer 2
Embedded Audio Input
Analogue Line or Mic in, adjustable gain
Headphone output, adjustable volume
Interface
Feature-rich WebUI for configuration and control
OLED LCD Display with joystick Navigation buttons
On/Off and Reset Switch
Micro SD
Powered USB 2.0 host port
Network
Ethernet: 10/100BASE-T
Wi-Fi: Dual Band 802.11 a/b/g/n MIMO
USB Modem support
Power
2-Pin LEMO Power input
Internal rechargeable Lithium ion battery
USB Charging
Nominal Power Consumption: 3 W
Nominal Power Consumption while Charging : up to 10 W
Auxiliary Power Input: 6 to 28 VDC
Dimensions (W x D x H)
6.3 x 8.8 x 2.2 cm
Weight
226 g
Reviews
(no ratings yet)
Own or use this product?
Give it a quick rating:
Thanks for your rating!
Share your thoughts with other customers:
Write a review
Product:

Teradek Cube 555 - Wireless SD Video Encoder

Manufacturer:

Model:

CUBE-555

SKU:

TD-CUBE-555

RM Product #:

15884

Battery:

Lithium-Ion