Syrp Slingshot

Product #35711
SKU 0023-0001


(no ratings yet)

Thanks for your rating!
Usually ships in 3 - 5 working days
---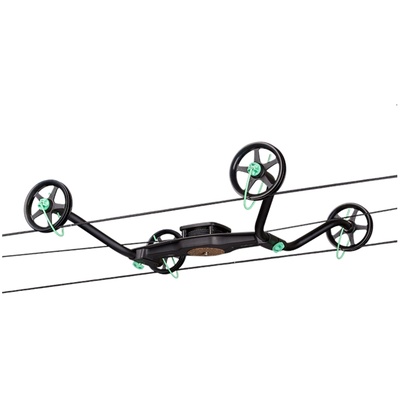 ---
Syrp Slingshot
Product #35711 | SKU 0023-0001
|

(no ratings yet)

Thanks for your rating!
Usually ships in 3 - 5 working days
---
Product Features
Achieve Motion Control up to 100 m
Capture Real-Time or Time-Lapse Video
Quick Release, Ratchet Attachment
Genie Motion Control Device Required
Achieve up to 3-Axis Motion Control
---
Email me when stock arrives
The Syrp Slingshot is a unique production tool for creating motion control time-lapses over extended distances. Use the Genie for motorizing the Slingshot and fully customize your movement and timing parameters.
Key Features
Quick & Easy Setup
Simple setup with all the necessary fastening equipment provided. Find two fixed anchor points and simply tighten the rope at both ends. Our quick-release design means you will be setup in minutes not hours.
Extended Time Lapse Motion

The Slingshot can go much further than other motion control devices making your shots stand out from the rest. Shoot incredible Time Lapses spanning up to 100 meters long!
Mobile App Control

When using the Slingshot with the addition of a Genie Mini, full app control is possible for both iOS and Android.
Multi Axis Motion Control

Add even greater motion to your Time Lapses by combining the Genie with the Genie Mini for Pan Track motion or capture full 3-Axis motion control with the addition of two Genie Mini's for Tracking, Panning and Tilting.
| | |
| --- | --- |
| Maximum Distance | 100m |
| Pay Load | 8kg |
| Maximum Torque Rating | 26 Nm |
| Weight | 8kg |
In The Box
1 x Slingshot Carriage
4 x Wheels
1 x Slingshot Linear Accessory
1 x Ratchet Bar
1 x Fixed Bar
1 x 25 m Genie Rope
2 x 25 m Slingshot Rope
2 x 6 m Tie Down Straps
1 x Camera Safety Lanyard
4 x Wheel Safety Hooks
1 x Ratchet Wrench
1 x Slingshot Carry Bag
Reviews
(no ratings yet)
Own or use this product?
Give it a quick rating:
Thanks for your rating!
Share your thoughts with other customers:
Write a review