Sachtler Ace Fluid Head with 2-Stage Aluminum Tripod & On-Ground Spreader

Product #30642
SKU 1002


(no ratings yet)

Thanks for your rating!
Usually ships in 3 - 4 weeks
---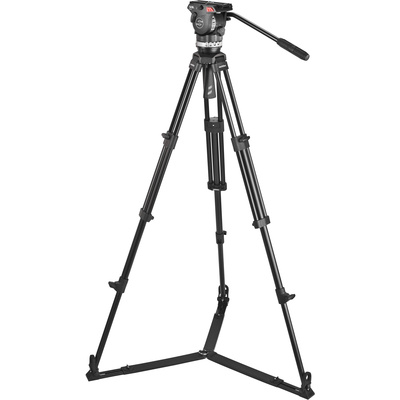 ---
Sachtler Ace Fluid Head with 2-Stage Aluminum Tripod & On-Ground Spreader
Product #30642 | SKU 1002
|

(no ratings yet)

Thanks for your rating!
Usually ships in 3 - 4 weeks
---
Product Features
For HDSLR Cameras & Compact Camcorders
Supports Up to 4 kg
Drag: 3 Grades Each of H/V + Zero
5-Step Counterbalance
Balance Plate with 10.4 cm Sliding Range
---
Email me when stock arrives
The Sachtler Ace Fluid Head with 2-Stage Aluminium Tripod & On-Ground Spreader is a full tripod system for videographers who use HDSLR cameras and smaller camcorders. Whether you're doing documentaries, ENG, weddings, corporate videos, or any other type of projects with a smaller camera, the Ace system matches your needs, enabling broadcast-style performance with lightweight components. With its light weight, compact size, and floor spreader, this system is perfect for projects that involve multiple setup changes on level surfaces.
With a payload up to 4kg, the Ace fluid head features five steps of counterbalance as well as a plate that features a 4.1"(10.4 cm) range of adjustment, so you can balance your small camera to a very precise degree. Designed by Sachtler engineers for the Ace head, the SA drag system enables smooth, precise panning and tilting via the head's pan bar, with three grades of drag in both the horizontal and vertical dimensions, plus the option of zero drag. The head's tilt range is +90° to -75°.
The tripod mounts the head via its 75mm bowl. With the Ace head attached, the two-stage aluminium model reaches a maximum height of 173 cm for a comfortable working height for almost all users. Also included is an on-ground spreader, model SP 75, which adds to the stability of the system when you're operating on a level surface. The spreader features telescopic arms to accommodate different tripod heights.
Key Features
SA Drag for Perfect Performance
For the Ace head, Sachtler engineers developed a patented drag, SA (synchronised actuated) drag, which guarantees accuracy and repeatability at a remarkable price. With three vertical and three horizontal grades of drag, SA drag enables fine adjustments for precise panning and tilting. Damping can also be completely deactivated
Lightweight Material
Weighing just 1.67kg on its own, the Ace head is composed of a glass fibre-reinforced Composite material, which keeps the head especially light and offers a comfortable, non-slip surface feel. The head enables camera operators to work extremely intuitively and professionally, and with the system's light weight and compact size, operators will want to take Ace on the go
Familiar Sachtler Features
The Ace head reflects Sachtler's 50 years of developing camera support products, which is evident in such practical features as the Ace camera plate's parking position for spare camera screws and the long 10.4 cm sliding range. The plate comes with a 1/4"-20 screw and a video pin
Broadcast Feel for Smaller Cameras
With its payload range of 0-4kg, Ace is ideal for smaller HD & HDV camcorders as well as HDSLR cameras. The five-step counterbalance makes it easy to achieve proper balance quickly
General
Load Capacity
4 kg
Maximum Height
68.1" (173 cm)
Maximum Height w/o Column Extended
N/A
Minimum Height
22.4" (57 cm)
Folded Length
34.3" (87 cm)
Levelling Bubble/Illuminated
Yes/no
Weight
4.6 kg
Head
Counter Balance System
5-step
Quick Release/Wedge Plate
Yes
Balance Plate
4.1" (10.4 cm) range of adjustment
Tilt Drag
3 grades each in horizontal and vertical, plus zero
Tilt Range
+90° / -75°
Spring Loaded Counter Balance
In 5 steps
Legs
Material
Aluminium
Head Attachment Fitting
75mm bowl
Leg Stages/Sections
2/3
Leg Lock Type
Thumb screws
Independent Leg Spread
Yes, without spreader attached
Spiked/Retractable Feet
Yes/yes
Centre Brace
No
Operating Temperature
-30 to 60°C
In The Box
Sachtler Ace Fluid Head with 2-Stage Aluminum Tripod
Spreader SP 75 On-Ground Tripod Spreader
Ace Camera Mounting Plate
Ace Bag
Limited 1-Year Warranty, Extendable to 2-Years with Product Registration
Reviews
(no ratings yet)
Own or use this product?
Give it a quick rating:
Thanks for your rating!
Share your thoughts with other customers:
Write a review
Product:

Sachtler Ace Fluid Head with 2-Stage Aluminum Tripod & On-Ground Spreader

Manufacturer:

Model:

1002

SKU:

1002

RM Product #:

30642

Closed Length:

87 cm

Minimum Height:

57.0 cm

Load Capacity:

4.0 kg

Weight:

4.60 kg

Maximum Height:

173.0 cm

Material:

Aluminium

Head Type:

Fluid

Stage & Sections:

2/3