Matthews 149064 Open End Scrim - 24x36" - Black Double Scrim
Product #28272 | SKU 149064
(no ratings yet)
Thanks for your rating!
---
---
Matthews 149064 Open End Scrim - 24x36" - Black Double Scrim
Product #28272 | SKU 149064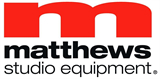 ---
---
Product Features
Black Double Scrim Fabric
Control or Manipulate Light
Soften or Reduce Light without Noticeable Edge
Red Webbing Colour
Flame Retardant
Customer Reviews
(no ratings yet)
Thanks for your rating!
Product Details
Product: #28272
SKU: 149064
---
Overview
Open End Frames are made of spring steel with a 3/8" pin and support which can be used to hang the Scrim from the C Stand handle when not in use.
The two upright arms of the frame are slotted at the two open ends to retain the piano wire woven through the fabric to make up the fourth side of the frame without causing a shadow.
Open Ends are used to control or manipulate light falling on certain areas of the set or subject. They can be used to soften or reduce light without a noticeable edge. A colour coded binding is used around the frame to identify the fabric.
Open End Frames are black powder coated to minimise unwanted reflections.
Specifications
| | |
| --- | --- |
| Fabric | Black Double Scrim |
| Size | 24" x 36" (61 x 91cm) |
| Approx. Light Loss | 1.2 Stops |
| Webbing Colour | Red |
| Primary Use | Greater reduction of light intensity without changing pattern or colour temperature |
| Safety Characteristics | Flame Retardant |