NITECORE EC20 Flashlight

Product #24254
SKU EC20


(no ratings yet)

Thanks for your rating!
- show branch stock
---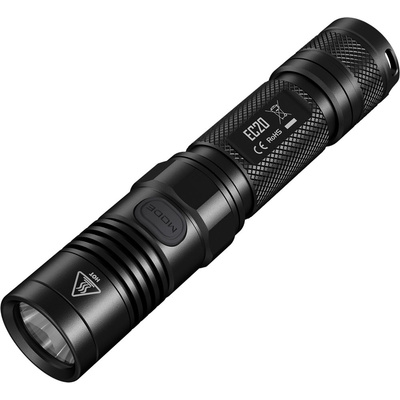 ---
NITECORE EC20 Flashlight
Product #24254 | SKU EC20
|

(no ratings yet)

Thanks for your rating!
- show branch stock
---
CREE XM-L2 LED, 1 / 50 / 210 / 960 Lumen Constant Modes
---
Note: Product does not include batteries
The EC20 Flashlight from NITECORE feature bright white light CREE XM-L2 LED combined with "Precision Digital Optics Technology" to deliver improved reflector performance inside diamond knurled HA III anodised aluminium body. It also features high, medium, low and ultra-low brightness modes and international SOS, location beacon, and strobe flashing modes. Use the comfortable rubberised side button to switch between brightness and flushing modes. The button also has a battery status indicator glowing with a blue light around the perimeter. The flashlight also features a constant current output circuit which enables operation for a maximum of 520 hours.
To make it useful in a variety of situations like outdoors and professional activities, the NITECORE outfitted this flashlight with a waterproof, submersible to 6.6', impact resistant to 5', durable high grade aluminium housing with HA III anodised finish and comfortable and slip-free handle diamond knurling. To help you concentrate on your task, the flashlight has an anti-roll polygon ring located at the base of the head. To enable you to project light in a vertical direction for example, to illuminate ceiling, the tailcap has a smooth round shroud so it can stand stably on a rough surface. To help you switch between the brightness and flashing modes even while wearing gloves, the NITECORE EC20 is equipped with a rubberised power button. Also included with the light are lanyard and a spare o-ring.
Key Features
Light Performance
CREE XM-L2 LED
White LED light
Ultra-low: 1 lumen
Low: 50 lumen
Medium: 210 lumen
High: 960 lumen
"Precision Digital Optics Technology" improves reflector performance
Advanced reflector system improves beam brightness and shape quality
Location beacon, SOS, and strobe flashing modes
Switching and Electronic Performance
Rubberised switch button has a blue battery status indicator around perimeter
High efficiency constant current circuit provides max runtime of 520 hours
Battery status indicator displays remaining battery level and voltage
Reverse polarity protection prevents damage from incorrectly inserted batteries
Instant access to ultra-low output
Construction Details
Diamond textured handle provides a good grip
Stable when placed on the tail end
Impact resistant to 5'
IPX8 rated waterproof submersible to 6.6'
Matte black HA III anodised finish on aluminium core
Specifications
Lamp Type

LED

Maximum Output

960 lumen

Battery / Runtime

1 x 18650 Li-Ion Battery / High: 1.25 hr, Mid: 6 hr, Low: 28 hr, Ultra-Low: 520 hr max
2 x CR-123 Battery / High: 1 hr, Mid: 5.25 hr, Low: 20 hr, Ultra-Low: 300 hr max

Construction

Aluminium

Waterproofing

IPX8-rated submersible to 6.6' (2 m)

Dimensions (Ø x L)

1 x 5" (25.4 x 128 mm)

Weight

2.7 oz (76 g)