Pelican 1300 Case without Foam (Orange)
Product #13336 | SKU 1300-001-150
(no ratings yet)
Thanks for your rating!
---
---
---
Buy Together & Save!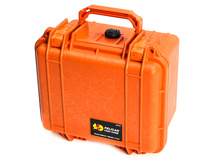 Pelican 1300 Case without Foam (Orange)
Related Products
---
Overview
1300 Case Interior Dimensions:
9.87 x 7.0 x 6.12" (25.07 x 17.78 x 15.54cm)
The Pelican 1300 Case without Foam (Orange) is an unbreakable, watertight, airtight, dustproof, chemical-resistant and corrosion-proof hard case used to carry any kind of equipment that needs to be protected from the elements. It is made of Ultra-High Impact structural copolymer that makes it extremely strong and durable. It has a 0.25" (6.4mm) neoprene o-ring, and easy-open double throw latches that seal perfectly. It includes an automatic pressure equalization valve for quick equalization after changes in atmospheric pressure. It is carried by an oversized handle that enables a person to use two hands for heavy loads.
This case has an empty interior.
Key Features
Construction
Ultra-High Impact structural copolymer
Watertight, crushproof, and dust proof
Empty interior
Open cell core with solid wall design
Stainless steel hardware
Automatic pressure equalization valve
0.25" (6.4mm) neoprene o-ring
Easy-open double throw latches
Temperature rating -40 to +210°F (-40 to +95°C)
Oversized handle enables a person to use two hands to carry heavy loads
Certifications
IP67 (1 meter submersion for 30 minutes)
Def Stan 81-41/STANAG 4280
Specifications
Material

Exterior: Ultra-high impact copolymer
Exterior: Open-cell core with solid wall design
Interior: Empty

Type of Closure

Double throw latches

Waterproofing

Watertight to 30'
O-Ring sealed

Maximum Buoyancy

Floats in salt water with 12.35 lbs (5.6kg) load

Exterior Dimensions

10.62 x 9.68 x 6.87" (26.97 x 24.59 x 17.45cm) (LxWxD)

Interior Dimensions

9.87 x 7.0 x 6.12" (25.07 x 17.78 x 15.54cm) (LxWxD)
Lid depth: 1.18" (3.0cm)
Bottom depth: 4.93" (12.5cm)

Interior Fitting

Empty

Accommodates

Equipment that does not requires protection from shock and the elements, such as gear in cases

Carrying/Transport Options

Oversized handle

Weight

3.09 lbs (1.4kg)