Celestron Advanced VX 6" f/5 Newtonian Reflector Telescope

Product #26365
SKU 32054


(no ratings yet)

Thanks for your rating!
In stock with supplier
Usually ships in 1 - 2 weeks
---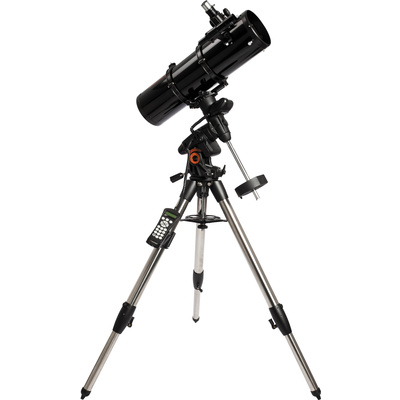 ---
Celestron Advanced VX 6" f/5 Newtonian Reflector Telescope
Product #26365 | SKU 32054
|

(no ratings yet)

Thanks for your rating!
In stock with supplier
Usually ships in 1 - 2 weeks
---
6" / 150mm Aperture, f/5 Focal Ratio, Parabolic Primary Mirror
---
Email me when stock arrives
The Advanced VX 6" f/5 Newtonian Reflector Telescope from Celestron is a complete astroimaging platform including a 6" Newtonian Reflector optical tube, 20mm eyepiece, Advanced VX computerised German Equatorial mount, adjustable stainless steel tripod, and NexStar hand controller. By pairing the reflector tube with their redesigned Advanced VX mount, Celestron has created an optical instrument ready for deep sky observation and image capture. The fusion of lightweight materials, compact design, and astroimaging technology equip this telescope with the portability and functionality to satisfy amateur stargazers and novice astrophotographers.
The reflector optical design, like other catadioptrics, utilises a system of lenses and mirrors to produce long focal lengths with a more compact tube length than refractors. This 6" reflecting optical tube features a 750mm focal length using a tube less than 2.5 ft long. In addition to the relatively compact design, reflector optical tubes are also lightweight for their size. An aluminium optical housing not only minimises flexure and helps equalise the temperature inside the tube, it also reduces excess weight, making this 6" tube only 10 lbs. EXEB Celestron's Newtonian Reflector corrects some of the optical distortions common to all catadioptrics, including chromatic and spherical aberrations that become more pronounced at higher magnification. By using a parabolic primary mirror, this optical tube can transmit sharper and more colour faithful images than standard reflector telescopes, improving image quality for both observation and astrophotography. The resulting images are sharper along the edge of the transmitted field of view and have reduced colour fringing artefacts.
Celestron's Advanced VX German-Equatorial mount is an integrated telescope support, alignment and guiding system optimised for astrophotography. Celestron engineered the Advanced VX mount from the ground up to deliver the functionality and affordability required by astroimagers on a budget. This telescope mount delivers some of the features found on more sophisticated German Equatorial mounts but without the added bulk or cost associated with more robust options. The Advanced VX mount is designed to accommodate an optical tube weighting up to 30 lb, enough payload capacity for most Schmidt-Cassegrain OTAs with up to an 8" aperture.
The core technology driving the Advanced VX mount is Celestron's All-Star Polar Alignment. This alignment system features a 2-Star alignment mode that uses multiple guide stars to assist tracking across the night sky while keeping the optical tube parallel to the Earth's axis of rotation. Maintaining alignment with either celestial pole while following the path of guide stars provides a high degree of pointing and tracking accuracy. Digitally-encoded low-cog DC servo motors drive telescope movements on both axes in fine increments that keep the observed (or photographed) object centred in the field of view. This level of precision reduces optical aberrations and minimises star trails, which translates into improved image quality and sharper photographs.
Complementing the Advanced VX's alignment and tracking capability is the mount's permanently programmable periodic error correction that eliminates recurring track errors inherent to all worm drives. Additionally, a 7-77° latitude range enables extended observations and photo exposures by allowing the telescope to track passed the meridian without the meridian flip common with German Equatorial mounts.
Included with the Advanced VX mount is the NexStar hand controller that will slew the telescope to any planetary, stellar, or nebulous object in its pre-loaded database at the touch of a button. The NexStar controller software is flash upgradeable, which allows operating system updates and even refinements to telescope-specific functions. This computerised mount is also compatible with Celestron's proprietary NexRemote telescope control software, which enables the observer to control the telescope using their personal computer.
This fully-integrated telescope mounting system also includes an adjustable stainless steel tripod that has two-inch diameter legs, locking spreader, and a caddy for the NexStar hand controller. The combination of digitally encoded servo motors, broad tracking latitude, and an array of sophisticated alignment and tracking technology equip the Advanced VX with the mechanical precision needed to observe and photograph any nearby or deep sky object.
In addition to the 6" optical tube, NexStar hand controller, Advanced VX German-Equatorial mount and tripod, this telescope includes a 6x30 finderscope for easy object acquisition and a 20mm eyepiece equalling 38x magnification when mounted. This collection of components makes the Advanced VX 6" Newtonian Reflector a full-featured telescope for a wide range of stargazing and astroimaging applications.
Key Features
Optical Tube Assembly
Newtonian Reflector optical design, aluminium construction
Parabolic primary mirror minimises spherical aberration
6" (150mm) aperture, f/5 light gathering
750mm focal length, 354x maximum magnification
20mm eyepiece with 38x magnification
10 lb (4.5kg) OTA weight
Advanced VX German Equatorial Mount
Computerised go-to capability
30 lb (13.6kg) payload capacity
7-77° latitude range for tracking passed meridian
Permanently programmable periodic error correction
All-Star Polar Alignment with 2-Star alignment mode
Aeq North / Aeq South tracking modes, Sidereal / Solar / Lunar tracking rates
Digitally-encoded low-cog DC servo motors on both axes
Dedicated Autoguider communication port
Two AUX communication ports
17 lb (7.7kg) mount weight
Includes 12" counterweight bar with one 11 lb weight
NexStar+ Hand Controller
Pre-loaded 40,000 object database
Flash upgradeable operating system
LED-backlit interface buttons
RS-232 serial communication port
Selectable language programming (English, French, German, Italian, Spanish)
Tripod
Stainless steel construction
2" diameter upper leg
44-64" (112.8-162.6 cm) height adjustment
18 lb (8.2kg) tripod weight
Specifications
| | |
| --- | --- |
| Optical Design | Newtonian Reflector |
| Aperture | 6" (150 mm) |
| Focal Length | 750 mm |
| Focal Ratio | f/5 |
| Highest Useful Magnification | 354.0x |
| Resolution | 0.93 arc sec (Rayleigh), 0.77 arc sec (Dawes) |
| Secondary Mirror Obstruction | 30% |
| Finderscope | 6 x 30 |
| Eyepiece | 20mm (38x) |
| Optical Tube Length | 27" (68.6 cm) |
| Optical Tube Weight | 10 lb (4.5 kg) |
| Tripod | Yes |
| Mount Type | German Equatorial |
| Power Supply | 12V DC 3.5A (tip positive) |
| GO-TO Capability | Yes |
| Altitude / Latitude Adjustment | 7 - 77° |
| Motor | DC servo motor, digitally encoded low-cog drive |
| Load Capacity | 30 lb (13.6 kg) |
| Counterweight | (1) 11 lb (5 kg) |
| Tracking Method | AEQ North, AEQ South |
| Tracking Rates | Sidereal, solar, and lunar |
| Slew Speed | 9 speeds, 4° per sec (maximum) |
| Alignment | Solar System align, Quick align, Last align, 2-star align, 1-star align |
| Hand Controller | NexStar |
| Communication Port | (2) AUX ports, Autoguider |
| Onboard Celestial Object Database | 40,000 objects (upgradeable) |
| Total Weight | 56 lb (25 kg) |
Product:

Celestron Advanced VX 6" f/5 Newtonian Reflector Telescope

Manufacturer:

Model:

32054

SKU:

32054

RM Product #:

26365