Celestron Computerized Telescope 114LCM

Product #26362
SKU 31150


(no ratings yet)

Thanks for your rating!
In stock with supplier
Usually ships in 1 - 2 weeks
---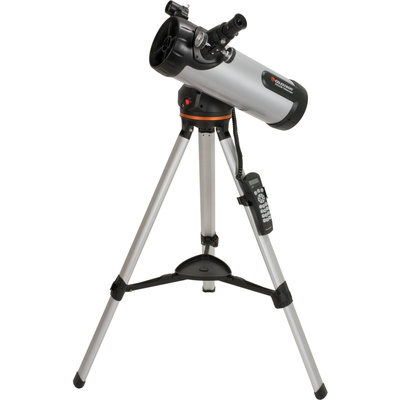 ---
Celestron Computerized Telescope 114LCM
Product #26362 | SKU 31150
|

(no ratings yet)

Thanks for your rating!
In stock with supplier
Usually ships in 1 - 2 weeks
---
Newtonian Reflector - 114mm/4.5", Focal Length: 1000mm f/8.77
---
Email me when stock arrives
Dedicated to unfolding the wonders of the Universe, the 114LCM Telescope from Celestron features an excellent combination of power and portability. With its computer-automated technology, the LCM is up and running after locating 3 bright celestial objects.
This LCM is a Newtonian reflector with a 114mm aperture and a focal length of 1000mm. The optical system is fully coated for enhanced sharpness and clarity. Two eyepieces are included - one 25mm as well as a 9.0mm. The mounting platform incorporates a sturdy aluminium tripod with a motorised and computerised altazimuth mount.
New observers will make great use of the LCM's built-in Sky Tour feature - simply pressing a button activates the system to locate and slew to the sky's most interesting objects. Experienced observers will appreciate the comprehensive database of 4000+ objects, along with the customised lists of the most intriguing deep-sky objects, planets, and double stars.
The LCM combines a powerhouse feature-set with Celestron's legendary optical standards to provide amateur astronomers with a sophisticated and easy-to-use telescope. The computerised hand-control provides simple on-screen instructions that guide the observer through the alignment procedures. Each step, helpful hints, and valuable reference materials are easily accessible to ensure a simple and pleasurable viewing experience.
Key Features
114LCM Telescope
Newtonian reflector
Aperture: 114 mm/4.5"
Focal Length: 1000 mm, f/8.77
AFOV: 1.6°, LFOV: 84' @ 1000 yd
Optical system: all-glass, fully coated
2 Eyepieces: 25 mm - 40x, 9.0 mm - 111x
StarPointer finderscope for accurate alignment and object location
Motorised Altazimuth Mount
Fully adjustable sturdy aluminium tripod
Lightweight computerised altazimuth mount
Fully enclosed motors and optical encoders
Flash upgradeable fully computerised hand control
Hand control and motors are powered by 8 user-supplied AA batteries or optional 12V AC adapter
Quick-release base, OTA, accessory tray with rapid no-tool set up
Educational astronomy software CD-ROM "The Sky" offers sky info and printable sky maps
Computerised hand controller with NexStar computer control offers 4,000 object database and storage for programmable user defined objects
Tracking rates: sidereal, solar, lunar. Tracking modes: alt-az, AEQ north/south. Slew speeds: 1,2,3°/sec - 64x, 32x, 16x, 8x, 4x, 2x. Alignment procedures: skyalign, auto 2-star, 1-star, 2-star, solar system.
Specifications
Optical Design

Newtonian Reflector

Aperture

114.0 mm / 4.5"

Focal Length

1000 mm

Focal Ratio

f/8.77

Eyepiece Barrel Diameter

Not specified by manufacturer

Finderscope

Integral StarPointer

Mount Type

Motorised Altazimuth

Tripod

Aluminium

Resolving Power

Rayleigh: 1.22 arcsec
Dawes: 1.02 arcsec

Maximum Useful Magnification

269x

Motor

Yes

GO-TO Capability

Yes

PC Compatible

Not specified by manufacturer

Power Source

8 AA batteries

Optical Tube Dimensions

Not specified by manufacturer

Weight

15 lb / 6.8 kg

Product:

Celestron Computerized Telescope 114LCM

Manufacturer:

Model:

31150

SKU:

31150

RM Product #:

26362