DigiTech DGR Grunge Distortion Pedal
Product #35187 | SKU DGR
(no ratings yet)
Thanks for your rating!
---
---
---
Product Features
Two-Band AEQ
Dual Outputs
Long Battery Life
Customer Reviews
(no ratings yet)
Thanks for your rating!
---
Buy Together & Save!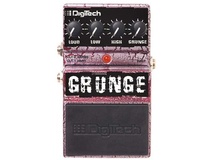 DigiTech DGR Grunge Distortion Pedal
---
Overview
The Digitech Grunge Pedal was made for modern rock's requirements of wide dynamic range. Anything from a mild rhythm chunk to over-the-top leads that sustain until next week are possible with this versatile pedal.
There's a two-band AEQ to sculpt your sound to your personal preferences. There's also a bonus feature for guitarists who record direct into their computer: dual outputs. Use one when you're running your signal out to an amp; use the other when recording direct and the Grunge pedal will add an amp-and-cabinet simulation to your output. This will give you the big, live sound you want even when you're holed up in your studio.
The Grunge pedal from Digitech is an excellent distortion pedal at an affordable price.
Key Features
Adjustable Distortion
Variable gain and a two-band AEQ give this pedal the versatility needed to provide a wide range of tones and dynamics.
Dual Outputs
A modern pedal that takes today's recording techniques into account, the Grunge pedal features dual outputs, one for when you're playing through an amp and another for direct recording.
Long Battery Life
An alkaline 9-volt will last an average of 18 hours, or you can use the optional (Model PS200R) AC adapter.
Specifications
Inputs
1 x 1/4" Input jack
Input Impedance
1 Mohm
Outputs
1 x 1/4" Amp Out jack
1 x 1/4" Mixer Out jack
Output Impedance
100 ohms
Controls
LOUD knob
LOW knob
HIGH knob
GRUNGE knob
BYPASS pedal
Power Supply
9 VDC, 21 mA
Battery Type
1 x 9-volt
Dimensions (WxDxH)
3.13 x 2.13 x 4.94" (79.51 x 54.10 x 125.48 mm)
Weight
0.63 kg