G-Technology 4TB Spare 4000 Enterprise Hard Drive
Product #27668 | SKU 0G03507
Usually ships in 4 - 6 Weeks
(no ratings yet)
Thanks for your rating!
---
---
G-Technology 4TB Spare 4000 Enterprise Hard Drive
Product #27668 | SKU 0G03507
Usually ships in 4 - 6 Weeks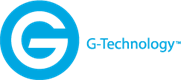 ---
---
Product Features
For use with G-Technology Arrays Only
4TB Capacity
Hot-Swappable Enterprise-class Spare
Drive Speed: 7200 rpm
Customer Reviews
(no ratings yet)
Thanks for your rating!
Email me when stock arrives
Product Details
Product: #27668
SKU: 0G03507
---
Overview
The 4TB Spare 4000 Enterprise Hard Drive from G-Technology is a hot-swappable Spare series drive for use with the G-Technology G-SPEED Studio, G-SPEED Studio XL, G-RAID Studio, and G-RAID arrays. As a Spare series drive, its frame is fitted with a mounting system that only allows it to be used with the mentioned G-Tech products.
This drive allows you to store and access up to 4TB of your data when installed in a G-Technology array. In terms of speed, this drive operates at 7200 rpm and the 64MB cache helps ensure uninterrupted data transfers.
Key Features
Rotational Vibration Safeguard
Helps maintain drive performance in high rotational vibration environments and multi-drive systems
Thermal Fly-Height Control with internal thermal sensor
Helps lower the soft error rate for improved reliability and performance
Improved Watts per Gigabyte
24% lower W/GB than its predecessor for maximum efficiency
Optional Bulk Data Encryption and TCG Enterprise_A
Encrypt private data, providing improved security and easier redeployment
SATA Interface
The hard drive connects via the SATA 6 Gb/s interface (Rev. 3.0)
Specifications
Configuration
Interface
SATA III 6 Gb/s
Capacity (GB) at 512 bytes/sector
4 TB
Form Factor
3.5"
Sector Size (bytes)
512e, 512n
Max areal density (Gbits/sq. in.)
446 (512e), 475 (512n)
Performance
Data Buffer
64 MB
Rotational Speed
7200 rpm
Interface Transfer Rate (max)
600 MB/s
Sustained Transfer Rate (typical)
171 MB/s (512e), 181 MB/s (512n)
Seek time (read, typical)
8.0 ms
Reliability
Error rate (non-recoverable, bits read)
1 in 1015
Load/Unload Cycles
600,000 at 104°F / 40°C
Availability (hrs/day x days/wk)
24x7
MTBF
2,000,000 hours
Acoustics
Idle (Baels, typical)
2.9
Power
Requirements
+5 VDC (±5%)
+12 VDC (+10%/-8%)
Startup Current (A, max)
1.2 (+5 V), 2.0 (+12 V)
Read/Write
11.4 W
Idle Average
6.9 W
Unload Idle
5.7 W
Environment (operating)
Ambient Temperature
41 to 140°F / 5 to 60°C
Shock (half-Sinae wave 2 ms, G)
70
Vibration (G RMS, 5 to 500 Hz)
0.67 (XYZ)
Non-Operating Environment
Ambient Temperature
-40 to 158°F / -40 to 70°C
Shock (half-Sinae wave, 1ms, G)
300
Vibration (G RMS, 5 to 500 Hz)
1.04 (XYZ)
Physical size
z-height
1.0" / 26.1 mm
Dimensions (width x depth)
101.60 (±0.25) x 147.00 mm
Weight (typical)
690.0 g