Goal Zero Yeti 150 AGM Portable Power Station (220v)

Product #48174
SKU 61208


(no ratings yet)

Thanks for your rating!
Usually ships in 3 - 4 working days
---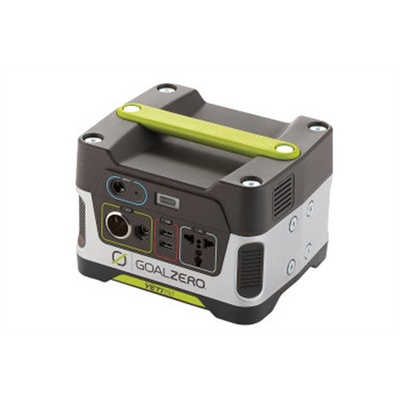 ---
Goal Zero Yeti 150 AGM Portable Power Station (220v)
Product #48174 | SKU 61208
|

(no ratings yet)

Thanks for your rating!
Usually ships in 3 - 4 working days
---
Ready to keep you powered up with 168Wh
---
Email me when stock arrives
A plug-and-play, silent, fume-free portable power station for emergencies, camping, or wherever you need power. Your gas-free source of portable power to keep lights, phones and laptops powered on through any situation.
There are 3 ways to charge your Goal Zero Yeti 150:
The Sun: The Goal Zero Yeti 150 can be charged by connecting a compatible solar panel (see the chart below for solar compatibility).
Wall: The Goal Zero Yeti 150 can be charged by being plugged into a regular wall outlet.
Car: The Goal Zero Yeti 150 can also be charged by plugging into your car 12V adapter.
The Goal Zero Yeti 400 powers your device in 3 ways:
USB: The USB port best charges all your medium size USB powered devices.
12V: The 12V best charges all your medium 12V powered devices.
AC Inverter: Plug in your device just as you would the wall.
Features
Best-Use Strategy
When recharging gear with your Yeti 150, take note of the LCD Battery Display. If you plug in devices that have a high power requirement (a state-of-the-art gaming laptop), the charge level of your Yeti 150 can drop very quickly and you may not get exactly 150Wh of power. On the flipside, if you're recharging devices that draw power more slowly (a tablet), you will get closer to 150Wh from your Yeti 150. If you're experiencing shorter runtimes, you may want to check the device's power requirements.
Cold Weather Usage
Cold temperatures (below freezing) can impact the Yeti 150's battery capacity. If you'll be living off-grid in sub-zero conditions, we recommend keeping your Yeti 150 in an insulated cooler, and connected to a power source (sola panels). The natural heat generated by the Yeti 150 contained in an insulated cooler will keep battery capacity at its highest.
Storage and Downtime Maintenance
Having your Yeti 150 connected to a power source, like a solar panel or wall outlet, between adventures or while in storage keeps its battery healthy and topped off. This prolongs battery life and will ensure your Yeti 150 is charged and ready to go all day, every day.
If you can't keep your Yeti 150 plugged into a power source during storage, fully charge your Yeti 150 every 3 months and store it in a cool, dry place. Failure to maintain your Yeti 150 by following these steps can result in battery damage which will void the product warranty.
What products are not suitable to use with your Yeti 150
Modified-sine wave inverters, like those used in the Yeti 150, are the most common inverters on the market. They work great with small electronic equipment, usually anything that includes an AC power cable with the box, like what your laptop comes with.
Some or all of the following devices are not suitable for use with a modified sine wave inverter and should not be used with the Yeti 150. Any such use is entirely at the owner's risk and Goal Zero does not accept any responsibility for damage or injury resulting from such use: Fluorescent lights with dimming function, Power tools employing "solid state" power or variable speed control, digital clocks with radios, and sewing machines with speed control.
Specifications
Charge Times
Wall Charger (45W)
6 hours
Car Charger (30W)
8 hours
Nomad 13 Solar Panel
26-52 Hours
Nomad 20 Solar Panel
17-34 Hours
Boulder 15 Solar Panel
22-44 Hours
Battery Details
Cell Type
AGM Lead-Acid
Peak Capacity
168Wh (12V, 14Ah)
Lifecycles
hundreds of cycles
Shelf-life
Keep plugged in, or charge every 3-6 months
Internal Battery Dimensions
15.3cm L x 9.6cm W x 9.4 H
Fuses
20A, user replaceable fuse
Management system
Charging and low-battery protection built-in
Ports
USB port (output) (2x)
5V, up to 2.1A (10W max), regulated
6mm port (output, 6mm, green, hexagon)
12V, up to 10A (120W max), regulated
12V car port (output)
12V, up to 10A (120W max)
AC inverter Int (output, 50Hz, modified sine wave)
220V, 0.4A (80W continuous, 160W surge max)
Charging port (input, 8mm, blue, circle)
14-29V, up to 5A (60W max)
General
Chainable
No
Weight
12 lbs (5.4 kg)
Dimensions
7.75 x 5.75 x 6.75 in (19.7 x 14.6 x 17.2 cm)
Operating usage temp.
32-104 F (0-40 C)
Certs
CE, FCC, ROHS
Warranty
6 months
Reviews
(no ratings yet)
Own or use this product?
Give it a quick rating:
Thanks for your rating!
Share your thoughts with other customers:
Write a review
Product:

Goal Zero Yeti 150 AGM Portable Power Station (220v)

Manufacturer:

Model:

61208

SKU:

61208

RM Product #:

48174

Battery:

AGM Lead Acid

Wattage / mAh:

168Wh