Hosa PDR-369 12-point Patch Bay
Product #6751 | SKU PDR-369
(no ratings yet)
Thanks for your rating!
---
---
---
Buy Together & Save!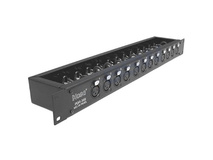 Hosa PDR-369 12-point Patch Bay
Related Products
---
Overview
The Hosa PDR-369 Patch Bay Module enables easy through routing between audio sources with balanced XLR male and female connections. This flexible patchbay features 12-points with balanced XLR female inputs on the front and male XLR outputs on the rear. The connections are easily reversed for opposite signal flow. The PDR-369 provides easy accessibility to balanced XLR line and microphone inputs without rewiring.
Features:
12 balanced XLR male and female connections
Straight through signal flow may be reversed
Installs into a single space 19-inch rack
Specifications:
Product Type: Patch Bay
Type: Balanced
Points: 12-Point Balanced XLR Patch Bay
Front: XLR (F)
Back: XLR (M)
Applications:
Home Recording
Pro Recording