Korg Volca Keys Analog Loop Synthesizer
Product #28192 | SKU VOLCAKEYS
(no ratings yet)
Thanks for your rating!
---
---
---
Product Features
Polyphonic Analogue Synthesis
3 Note Synthesis
Self-Tuning Oscillators
Loop Sequencer
Built-In Delay
Customer Reviews
(no ratings yet)
Thanks for your rating!
Product Details
Product: #28192
SKU: VOLCAKEYS
---
Buy Together & Save!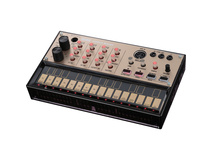 Korg Volca Keys Analog Loop Synthesizer
---
Overview
The Volca Keys Analogue Loop Synthesiser from Korg is a polyphonic lead synthesiser with three self-tuning oscillators capable of three-note synthesis. It features a built-in 16-step loop sequencer with the ability to record phrases as you play them. The Motion Sequencer allows you to record knob edits in real time while the Active Step and Flux functions can provide dynamic changes to your programmed sequences. The unit also has built-in delay for time-based effects.
The unit can be programmed with its 27-key Multi-Touch keypad or with an external MIDI controller or DAW via its 5-pin DIN MIDI input. Multiple units from the Volca line can be clock synced with the 1/8" Sync In and Out connectors. Playback is provided through the 1/8" headphone output or through the Volca Keys' built-in speaker. It can be powered by six AA batteries or with the optional KA-350 AC adapter.
Specifications
Keyboard
Multi-Touch Keyboard
Synthesiser Type
Analogue Synthesis
Polyphony
3 Voices (Maximum)
Structure
3 x VCO
1 x VCF
1 x VCA
1 x LFO
1 x EG
VCO
Octave, Ring Modulation, Detune, Portamento, EG Intensity
Waves: Sawtooth, Square
VCF
Cut-Off, Peak, EG Intensity
Type: Low-Pass Filter @ 12 dB/Octave Slope
LFO
Rate, Pitch Int, Cut-Off Int, Wave (Sawtooth, Triangle, Square)
EG
Attack, Decay/Release, Sustain
Effects
Delay: Time, Feedback, Tempo Sync
Sequencer
Number of Parts: 1
Number of Steps: 16
Number of Recording Patterns: 8
Connectors
1 x 1/8" (3.5 mm) Stereo Headphone Output
1 x 1/8" (3.5 mm) Mono Sync Input
1 x 1/8" (3.5 mm) Mono Sync Output
1 x 5-Pin DIN MIDI Input
Power Supply
6x AA Alkaline or AA Nickel-Metal Hydride Batteries
Optional KA-350 AC Adapter
Battery Life
10 Hours (Approximate, Using Alkaline Batteries)
Dimensions (W x D x H)
7.61 x 4.54 x 1.81" (193 x 115 x 46 mm)
Weight
377 g