Korg microKEY 25 Key USB Keyboard Controller
Product #28135 | SKU MICROKEY25
(no ratings yet)
Thanks for your rating!
---
---
---
Product Features
25 Velocity-Sensitive Mini-Keys
Arpeggiator Feature
Sustain / TAP button
Expressive Joystick
Octave Shift Buttons
Customer Reviews
(no ratings yet)
Thanks for your rating!
Product Details
Product: #28135
SKU: MICROKEY25
---
Buy Together & Save!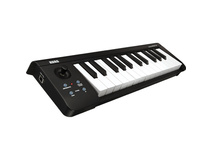 Korg microKEY 25 Key USB Keyboard Controller
---
Overview
The microKEY25 from Korg is a slim, lightweight (0.65 kg), 25-Key USB powered controller with tap tempo, arpeggiator, sustain and velocity-sensitive "Natural Touch" mini-keys. It is USB powered by connecting to your computer or iPad. It has been designed to maximise playability while still integrating into a compact production setup.
The microKEY25 is equipped with an expressive joystick that allows you to transmit pitch bend, modulation and control change commands to enhance your MIDI performances. When the arpeggiator is on, the functionality of the joystick changes, now allowing you to switch between the 3 different arpeggio types (up, trigger, and down), control the duration of the arpeggiated notes, and engage the latch function to continue play of an arpeggio even after you take your hand off the keyboard.
There is a Sustain/Tap button for adding sustain your performances as a sustain pedal would. When the arpeggiator is on, this control becomes a tap button that allows you to set the tempo of the arpeggio by pressing this button several times at the desired interval. The Key Transpose feature allows you to transpose the pitch of the keyboard up or down in semitone steps. Octave Shift buttons let you extend the note range of the keyboard by 4 octaves in either direction.
Edits to advanced MIDI parameters, such as the joystick control change number assignments and the keyboard's velocity curve can be made using the KORG KONTROL Editor software, available for free download on the Korg website. This can be useful in customising the microKEY to give you greater control over a virtual instrument, or to accommodate harder or softer keyboard playing styles.
The controller also includes 5 virtual instruments: EzDrummer Lite, Lounge Lizard Session, Strum Acoustic Session, Ultra Analogue Session and M1 Le.
Key Features
Controller
* Thin, lightweight, and USB-powered by your computer or iPad * 25-key, velocity-sensitive "Natural Touch" mini-keyboard designed for comfortable playing feel * Expressive joystick transmits pitch bend, modulation and control change commands * Arpeggiator function with 3 different types - up, trigger, and down. When the arpeggiator is on, the joystick will allow you to switch between the 3 different arpeggio types, control the duration of the arpeggiated notes, and engage the latch function to continue play of an arpeggio even after you take your hand off the keyboard * Sustain/Tap button can add sustain to notes as a sustain pedal would. When the arpeggiator is on, this becomes a tap button that allows you to set the tempo of the arpeggio by pressing this button several times at the desired interval * Octave Shift and Key Transpose features allow access to the full MIDI note range * Joystick and sustain/tap button command settings can be edited using the Korg Kontrol Editor from the Korg website
5 Virtual Instruments Included

Toontrack's drum sound module "EzDrummer Lite", gives you a library of realistic drum sounds (download)
"Lounge Lizard Session," the sound module from Applied Acoustics Systems, provides expressive electric piano sounds
Applied Acoustics Systems' "Strum Acoustic Session," the physical modelling software synthesiser that lets you "play" acoustic guitar parts with the expressiveness of an acoustic instrument
"Ultra Analogue Session", also by Applied Acoustics Systems, is an analogue modelling synthesiser featuring analogue-style synth sounds
"M1 Le" software synthesiser that brings the sounds of the M1 music workstation to your computer
KORG KONTROL Editor
KORG KONTROL Editor MIDI mapping software allows you to set the keyboard to respond to one of 8 distinct velocity curves, or set a fixed velocity value. This is useful in customising the microKEY to your personal playing style. In addition, the joystick's control change number assignment can be edited and its range can be customised by setting minimum and maximum values. This can be used to control specific parameters of a virtual instrument, or to increase or decrease the sensitivity of the joystick
Specifications
Keyboard
25 mini-keys with velocity-sensitivity
Controllers
1 x joystick
1 x arpeggiator button
2 x sustain/tap button
Connectors
1 x USB Type B
Power Requirements
USB bus power (<100 mA consumption)
System Requirements
Mac:
Apple Macintosh with USB port, Mac OS X 10.5 or later
Windows:
Computer with USB port, Microsoft Windows XP SP3 (32-bit), Microsoft Windows
Vista SP2 (32-bit, 64-bit) or Windows 7 SP1 (32-bit, 64-bit)
Dimensions (WxDxH)
15.6 x 5.16 x 2.09" (395 x 131 x 53 mm)
Weight
0.65 kg