Magix Xara Designer Pro X 15 (Upgrade, Download)

Product #51117
SKU ANR008115ESD-U1


(no ratings yet)

Thanks for your rating!
Electronic Download
Emailed within 1-3 Business Days
---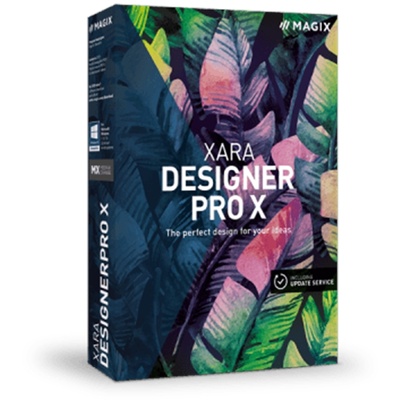 ---
Magix Xara Designer Pro X 15 (Upgrade, Download)
Product #51117 | SKU ANR008115ESD-U1
|

(no ratings yet)

Thanks for your rating!
Electronic Download
Emailed within 1-3 Business Days
---
Product Features
3,000+ design elements
Over 390 photo filters & effects
Over 240 website templates
Over 70 social media elements
230+ Designs for presentations
---
Email me when stock arrives
This item is noncancelable and nonreturnable.

Note: This is an upgrade available to owners of the previous version of the software.
Xara Designer Pro X 15 combines photo editing, desktop publishing, graphics and web design for the highest creative demands - all in a single workspace.
Key Features
Web design extras
Add creative highlights to your website with audio and video content, widgets for forms, slideshows and social media buttons.
Responsive web design
Display your website correctly on any end device from PC to smartphone and tablet. It's easy and no programming knowledge is required.
Interactive presentations
Create high-quality online presentations in HTML and PDF format so that your presentation can be accessed any time, from anywhere.
Xara Online Designer
Are you more often on the go than at home? Seamless integration in Xara Online Designer lets you edit and update your website's text and images from anywhere and directly in your browser. It's the perfect feature for collaborating on a project. You can work together online with others on the same document and make changes in real time.
Parallax scrolling
Add more depth to your website with the parallax effect. Content or images that are layered move at different speeds while scrolling. Use this impressive effect to tell a story in a way that will really stay with the reader.
Easy, advanced image optimization
Adjust brightness, contrast, color and saturation in images in no time at all or use 1-click optimization. For more precise results, edit the gradation curves for your photos or apply professional white balance.
Achieve perfection: Photo retouching
Use the Retouch tool to remove imperfections and distracting elements. Using individually adjustable tool tips, you can completely retouch unflattering areas of an image, for instance, spots or wrinkles in portraits.
Draw vector graphics
Powerful drawing tools allow you to draw lines, shapes, and curves using vectors and adjust scale without loss of quality. Your pictures look sharp right down to the finest detail.
Remove elements: Magnetic lasso
Crop individual parts of your image or cut figures out. Select an outline using the mouse and the intelligent selection tool will automatically create a path.
SmartShapes
The Online Content Catalog contains a wide range of different SmartShapes. These are intelligent shapes which can be easily edited using special handles.
Create a work of art
Create intuitive effects like Transparency, Shadow, Contours, Gradients or design three-dimensional objects from scratch. Support for plug-ins from external providers means your creative options are unlimited.
Brushes
Browse through a huge selection of art brushes. Draw creative lines and give each and every one of your images a special look.
Advanced text editing
Features for text editing include a powerful multilingual spellchecker and supports ligatures. Effects such as transparency, fill or shapes also enable you to add a creative touch to text.
Professional desktop publishing
With Xara Designer Pro X you can easily create multipage publications such as brochures, fliers, newspapers and business cards.
PDF/X Support
Standardized PDF/X files ensure that your files are accurately sent to the print shop and will be printed exactly the way you envisaged on your computer.
Document design extras
You have access to over 600 additional fonts and over 1,500 symbols from the Google fonts library for this purpose. So there's no limits to your creativity!
For clever designs.
Make the most of practical extra features like automatic text flowing around objects and images, automatic page numbering, format templates and access to professional color schemes.
Operating Systems
Windows 10
Windows 8
Windows 7
Windows Vista
Processor
700 MHz
RAM
512 MB
Graphics card
Onboard, minimum resolution 1280 x 600
Available drive space
300 MB for program installation
Program languages
Deutsch, English
Reviews
(no ratings yet)
Own or use this product?
Give it a quick rating:
Thanks for your rating!
Share your thoughts with other customers:
Write a review
Product:

Magix Xara Designer Pro X 15 (Upgrade, Download)

Manufacturer:

Model:

ANR008115ESD-U1

SKU:

ANR008115ESD-U1

RM Product #:

51117