PolarPro Monitor Mount for Ronin-S
Product #75637 | SKU RNS-MNTR-MNT
(no ratings yet)
Thanks for your rating!
---
---
---
Product Features
Toolless 360° Tilt and Swivel Adjustment
Three 1/4"-20 Accessory Mount Threads
Safety Pins
Aluminium Construction
Customer Reviews
(no ratings yet)
Thanks for your rating!
Product Details
Product: #75637
SKU: RNS-MNTR-MNT
---
Buy Together & Save!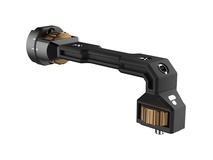 PolarPro Monitor Mount for Ronin-S
---
Overview
The PolarPro Monitor Mount for DJI Ronin-S is an all-aluminium mounting arm that attaches to the side of the gimbal and lets you mount a monitor and accessories. After initial setup, it works totally without any tools, allowing for adjustments at the turn of knobs. Once your monitor is attached, loosen the knobs and adjust the tilt and swivel positions of the monitor a full 360° on the fly. The monitor attaches to a 1/4"-20 screw provided on the lower knob. Additionally, there are three 1/4"-20 threaded holes on top for attaching accessories such as lights.
To attach the Monitor Mount, first remove the accessory port cover on the side of the gimbal using a supplied Allen key. Then screw in an included mounting bracket into the accessory port. The Monitor Mount secures to the bracket via a male 1/4"-20 and two safety pins integrated into the upper knob. There are multiple holes provided on the mounting bracket so that you can use the safety pins at different tilt positions.
Ket Features:
Toolless 360° Tilt and Swivel Adjustment
Three 1/4"-20 Accessory Mount Threads
Safety Pins
Aluminum Construction
Specifications
Material of Construction
Aluminium
Mount Types
2 x 1/4"-20 Male
3 x 1/4"-20 Female