SKB 1SKB-RE-SQ5 Allen & Heath SQ5 Rack Ears
Product #76559 | SKU 1SKB-RE-SQ5
Out of Stock with Supplier
Usually ships in 8 - 12 weeks
(no ratings yet)
Thanks for your rating!
---
---
SKB 1SKB-RE-SQ5 Allen & Heath SQ5 Rack Ears
Product #76559 | SKU 1SKB-RE-SQ5
Out of Stock with Supplier
Usually ships in 8 - 12 weeks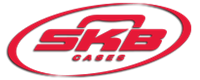 ---
---
Product Features
Steel rack ears for durability
Mounting hardware included
Exterior Length: 19.00 in (48.26 cm)
Exterior Width: 5.00 in (12.70 cm)
Exterior Depth: 1.25 in (3.18 cm)
Customer Reviews
(no ratings yet)
Thanks for your rating!
Email me when stock arrives
Product Details
Product: #76559
SKU: 1SKB-RE-SQ5
---
Overview
These steel rack ears are designed specially to fit the Allen & Heath mixer into the 1SKB-R100, 1SKB-R102W, 1SKB-R104W, 1SKB-R106W, or the 1SKB19-R1208 GigRig.
The rack ears will allow the mixer to sit lower into the case, which enables the user to mount an optional 1SKB-AV8 for the 1SKB-R100 or 1SKB19-R1208 and still fit the lid on without bumping the top of the mixer. The rack ears come with screws and washers for easy mounting.
Specifications
Exterior Length
19.00 in
48.26 cm
Exterior Width
5.00 in
12.70 cm
Exterior Depth
1.25 in
3.18 cm
Carton Length
20.50 in
52.07 cm
Carton Width
6.00 in
15.24 cm
Carton Depth
2.00 in
5.08 cm
Shipping Weight
3.26 lb
1.48 kg
Product Weight
2.92 lb
1.32 kg
This will not work with the 1SKB-AV14 or 1SKB19-R1406 Mighty Gig Rig.