SKB Audio Soft Rack (1U Rack Size, 20.75 x 17.5 x 3.75", Black)
Product #17924 | SKU 1SKB-SC191U
Usually ships in 4 - 6 Weeks
(no ratings yet)
Thanks for your rating!
---
---
SKB Audio Soft Rack (1U Rack Size, 20.75 x 17.5 x 3.75", Black)
Product #17924 | SKU 1SKB-SC191U
Usually ships in 4 - 6 Weeks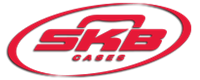 ---
---
Product Features
For Wireless Mics, Pre-Amps, Effects
Wood Core / 600-Denier Nylon Covering
Adjustable Shoulder Strap / Loop Handle
37.6 cm Depth (Front Rail to Back Flap}
Padded Front, Back Lids
Customer Reviews
(no ratings yet)
Thanks for your rating!
Email me when stock arrives
Product Details
Product: #17924
SKU: 1SKB-SC191U
---
Overview
The 1U Audio Soft Rack from SKB makes a perfect way to carry those small but necessary items you need for your gig. Whether it's a wireless mic system, pre-amp, effects pedals or even sets of strings, this strong case will fill the bill.
It's made with a wood core and covered with 600-Denier nylon - a strong combination that will protect against inclement weather and the back seat of your car. Carry it via its adjustable shoulder strap or loop handle. The front and back lids are padded and supplied with rugged zippers as is the internal zippered accessory pouch that is perfect for holding a wireless antenna. Conversely, the exterior features another zippered pouch for your cables or whatever else you need rapid access to. The inside also contains threaded rack rails for equipment but will not interfere with antenna placement.
Key Features
Heavy-duty zippers provide access to the contents
External accessory pouch is perfect for cables, batteries
Internal zippered pouch holds equipment on threaded rails
Adjustable shoulder strap and a loop handle make portability easy
Carry-On Form Factor
FAA and airline carry-on specifications are subject to change without notice, please cheque with your airline before designating this case as a carry-on item. Most airlines require carry-on items to have an external linear measurement that is equal to or less than 114.3 cm. The external dimensions of this case add up to 106.7 cm.
Specifications
Material
Wood Core
600-Denier nylon covering
Type of Closure
Zippers
Exterior Dimensions
52.71 x 44.45 x 9.53 cm
Interior Dimensions
48.26 x 41.28 x 4.45 cm
Rack Depth Front Rail to Back Lid: 36.83cm
Rack Depth Front Lid To Back Lid: 40.01cm
Shock Absorbent
No
Rails
Recessed threaded steel rack rails
Carrying/Transport Options
Adjustable shoulder strap
Loop handle
Weight
2.97 kg