SKB SKB19-RSF4U 4U Studio Flyer Case

Product #7028
SKU 1SKB19-RSF4U


(no ratings yet)

Thanks for your rating!
- show branch stock
---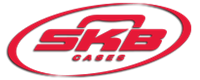 ---
SKB SKB19-RSF4U 4U Studio Flyer Case
Product #7028 | SKU 1SKB19-RSF4U
|

(no ratings yet)

Thanks for your rating!
- show branch stock
---
Product Features
Rotomolded Polyethylene Case
Fits 4U Recording Device or Disk Drive
Adjustable Laptop Compartment
Removable Front & Back Doors
Reinforced Nylon Trigger Release Latches
---
The 1SKB19-RSF4U Studio Flyer Case (Black) from SKB is a standard 4U rack mount for recording devices or a disk drive, and an extra large adjustable laptop or flatscreen compartment. It's ideal for transporting and protecting portable studio equipment.
The Studio Flyer is rotomolded with four in-line wheels, a two stage injection moulded pull-out handle for easy transport, thick foam padding in the lid and an innovative cleat system to help secure a laptop during transport, patented glass fibre reinforced nylon trigger release latching system with a TSA recognised and accepted locking latch, and two cushion grip rubber over-moulded handles for carrying comfort.
Key Features
4U (17.78 cm) rack and laptop combo case
Nylon reinforced fibreglass trigger release latches
Recognised and accepted TSA lock
Two stage retractable handle and four easy glide wheels
Cable pass through from laptop to rack
Removable front and back doors
Stackable with the 1SKB-R4W and 1SKB-R6W roto rolling racks
Note: The TSA lock enables users to safely lock the case and still have it inspected by airline security personnel and safely checked as luggage
Carrying Options
Cushion-grip rubber over-moulded handle
Durable, injection moulded, two-stage retractable pull handle for easy maneuvering
In-line wheels
Material
Rotomolded linear low density (LLD) and linear medium density (LMD) polyethylene plastic
Type of Closure
Fibreglass-reinforced nylon trigger release latches
TSA-accepted and recognised locking latch
Interior Dimensions
48.26 x 17.78 cm (WxH)
Volume
Exterior space: 0.11 m3
Shock Absorbent
No
Accommodates
Four-unit rack mount recording device and a laptop computer or flatscreen
Carrying/Transport Options
Cushion-grip handle
Pull handle
Built-in wheels
Weight
10.66 kg
Reviews
(no ratings yet)
Own or use this product?
Give it a quick rating:
Thanks for your rating!
Share your thoughts with other customers:
Write a review
Product:

SKB SKB19-RSF4U 4U Studio Flyer Case

Manufacturer:

Model:

SKB19-RSF4U

SKU:

1SKB19-RSF4U

RM Product #:

7028