TC Electronic 3rd Dimension Chorus
(based on 1 rating)
Thanks for your rating!

Product #56059
SKU TC-3RD-DIMENSION
---
---
---
Vintage Analog Chorus Pedal Recreation 4-Modes and BBD Circuitry
Customer Reviews
(based on 1 rating)
Thanks for your rating!
Product Details
Product: #56059
SKU: TC-3RD-DIMENSION
---
Buy Together & Save!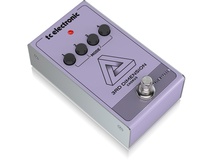 TC Electronic 3rd Dimension Chorus
---
Overview
3rd Dimension Chorus is a unique type of "motionless" chorus effect that reproduces that instantly recognizable '80s clean tone. It's full and lush, and expands your tonal range with a 3-dimensional feeling that is at once rich and sweet, as well as shallow and smooth. The pedal takes its inspiration from the classic '80s analog studio chorus guitar tones found on thousands of recordings – thick, lush, and crystal clear. It even responds to your playing dynamics – either dig in on some meaty chords, funk out on some crispy double-stops, or create huge sounding, finger-picked arpeggios. Unlike the delicate vintage pedals of yesteryear, the 3RD DIMENSION CHORUS is built to stand up to whatever you throw at it and keep delivering those beautiful three-dimensional tones – both in the studio and on the road. And the true bypass performance keeps your tone intact when the pedal is off.
Key Features

Authentic recreation of popular vintage chorus pedal
Unique 4-button selection system
Legendary, all-analog BBD (Bucket Brigade Delay) circuitry
True bypass for ultimate signal integrity
"Built-like-a-tank" metal chassis
Runs on 9 V battery or PSU-SB DC power supply (not included)