TC Electronic Afterglow Chorus Pedal
Product #56061 | SKU TC-AFTERGLOW
(no ratings yet)
Thanks for your rating!
---
---
---
Vintage-Style Chorus Pedal with All-Analog Bucket-Brigade Circuit
Customer Reviews
(no ratings yet)
Thanks for your rating!
Product Details
Product: #56061
SKU: TC-AFTERGLOW
---
Buy Together & Save!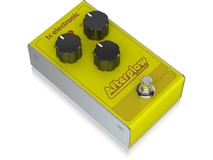 TC Electronic Afterglow Chorus Pedal
---
Overview
AFTERGLOW CHORUS was designed specifically with the vintage aficionado in mind and serves up a variety of time-honoured modulation tones reminiscent of rock 'n roll's heyday. Its all-analog circuit uses a Bucket-Brigade Device (BBD) to create a wide range of classic handed-down modulation tones, from the smallest shudder to wildest wobble. Many guitarists, bass players and keyboardists love the distinct tone of bucket-brigade circuits – and with good reason! AFTERGLOW CHORUS uses this same old-school technology's natural band limiting to create the secret sauce found in countless classic rock songs. A sturdy metal chassis with dedicated Input, Output and True Bypass means that AFTERGLOW CHORUS is equally roadworthy and pedalboard friendly. You can power it with a 9V battery, or use our convenient POWERPLUG 9V adapter.
Specifications
| | |
| --- | --- |
| Headroom (Max. Input Level) | +2dB |
| In | >450KΩ |
| Out | 1KΩ |
| Noise floor | -64dB |
| Frequency range | 20-20KHz |
| Min & max rate | 140mS-3S |
| Type | Analog |