TC Electronic Crescendo Auto-Swell Pedal
Product #56097 | SKU TC-CRESCENDO
(no ratings yet)
Thanks for your rating!
---
---
---
Responsive Crescendo Pedal with 2-Knob Interface for Haunting Guitar Line Manipulation
Customer Reviews
(no ratings yet)
Thanks for your rating!
Product Details
Product: #56097
SKU: TC-CRESCENDO
---
Buy Together & Save!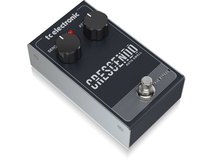 TC Electronic Crescendo Auto-Swell Pedal
---
Overview
Every once in a while an effect arrives ahead of its own time, and before guitarists can figure out what do with it, it's no longer available. As a result, and in spite of their high retail price, they become extremely valuable because of their rarity. Crescendo Auto-Swell brings one of those iconic and rare effects back to life, and makes it readily available, affordable and built to withstand a lifetime of abuse. Just like the musical term, crescendo means to start at a low volume and then swell to a much louder level, which is similar the sound of a violin being bowed.
Key Features

Lets you create rolling and powerful volume swells
Instantly accessible 2-knob interface featuring sensitivity and attack
Controls attack time to create almost violin-like guitar lines
True bypass for ultimate signal integrity
"Built-like-a-tank" metal chassis
Runs on 9 V battery or the PSU-SB DC power supply (not included)