TC Electronic SpectraDrive Preamp Pedal
Product #56150 | SKU TC-SPECTRADRIVE
(no ratings yet)
Thanks for your rating!
---
---
---
High-Quality Bass Preamp and Drive Pedal with Built-In TubeDrive and SpectraComp TonePrints
Customer Reviews
(no ratings yet)
Thanks for your rating!
Product Details
Product: #56150
SKU: TC-SPECTRADRIVE
---
Buy Together & Save!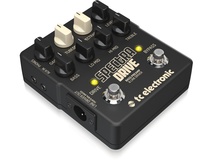 TC Electronic SpectraDrive Preamp Pedal
---
Overview
SpectraDrive Bass Preamp and Line Driver is a powerful tool for serious bass players in search of an exceptional sounding and ultra-flexible preamp. Jam-packed with useful features, SpectraDrive includes built-in TonePrint-customizable SpectraComp compression and distortion, as well as a custom built studio-grade DI Output. And SpectraDrive easily pulls double-duty as the perfect practice companion thanks to its high-quality headphone amplifier and Aux input. The TubeDrive TonePrint utility gives your bass the dynamic and warm sound and feel of a full blown tube amp. From just a single knob, TubeDrive serves up everything from a slightly overdriven tone with organic, rich harmonics all the way out to fuzzed out, edgy hard rock distortion and beyond. Plus, TubeDrive features its own dedicated footswitch – so you always kick it in at the ideal moment!
Key Features

High-quality bass preamp ported directly from TC's line of bass amps gives you exceptional tonal options for practice, live, and studio performance
TubeDrive with TonePrint technology emulates preamplifier and power amplifier tube stages, offering you everything from subtle drive to full-on distortion
SpectraComp control with TonePrint technology provides a variety of ultra-transparent and highly musical multi-band compression profiles to cut through any mix
Intelligent EQ stack dedicated to bass has four simple control dials to give you easy and impressive tone-shaping
Balanced DI with pre/post switch allows direct connection to mixing consoles or recording equipment
Superior analog buffering from the BONAFIDE BUFFER pedal prevents signal distortion from long cable runs
Auxiliary rehearsal input for playback through speaker or headphones
Parallel outputs for tuning or sending clean signal to your amp and mixer
Studio-quality headphone amplifier with speaker emulation for personal practice and silent rehearsals
Simple, easy-to-use controls let you focus on playing