TC Electronic Sub 'N' Up Octaver - Octave Pedal with TonePrint Software
Product #35865 | SKU 960822001
(no ratings yet)
Thanks for your rating!
---
---
TC Electronic Sub 'N' Up Octaver - Octave Pedal with TonePrint Software
Product #35865 | SKU 960822001

---
---
Product Features
Pitch Pedal for Guitars and Basses
Polyphonic & Classic Modes
Dedicated Knob for 1 Octave Up
Dedicated Knobs for 1 & 2 Octaves Down
True Bypass Switch
Customer Reviews
(no ratings yet)
Thanks for your rating!
Product Details
Product: #35865
SKU: 960822001
---
Buy Together & Save!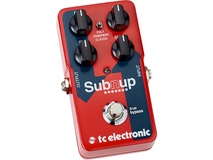 TC Electronic Sub 'N' Up Octaver - Octave Pedal with TonePrint Software
---
Overview
The Sub 'N' Up Octaver is an octave pedal from TC Electronic designed for guitars and basses. It allows you to double pitches both up and down the octave, and offers two distinct settings: Polyphonic or Classic mode. Classic mode is reminiscent of old-school octave pedals, delivering monophonic octave doubling which will occasionally glitch and stutter in the pleasing manner of yesteryear's stompboxes, while Polyphonic mode provides fast and precise note tracking, allowing you to pitch entire chords up the octave with little loss in the articulation of individual notes.
The pedal provides knobs controlling four different signals: a Dry knob controls the volume of your original tone, while the Up knob controls the amount of signal octavized up in pitch. Two Sub knobs provide your low-end harmonisers, with one controlling the volume of the octave directly below your signal, and the other giving you rumbling tones sounding two octaves below your original pitch.
Additionally, this pedal is compatible with TC Electronic's TonePrint technology, which allows you to download or create signature octavized tones within an app-based editor; then you can "beam" this preset, with your smartphone or device, straight to the pedal wirelessly. A true bypass footswitch rounds out the unit, restoring your signal to its original timbre when you step upon it.
Specifications
Controls
DRY knob
UP knob
SUB knob
SUB 2 knob
3-Way Mini-Toggle Mode switch
Bypass switch
Connections
1x 1/4" phone input
1x 1/4" phone output
Volt Amp Capacity
9 V / 100 mA