Pelican S140 Sport Elite Tablet Backpack (Orange)

Product #11875
SKU 0S1400-0003-150


(no ratings yet)

Thanks for your rating!
- show branch stock
---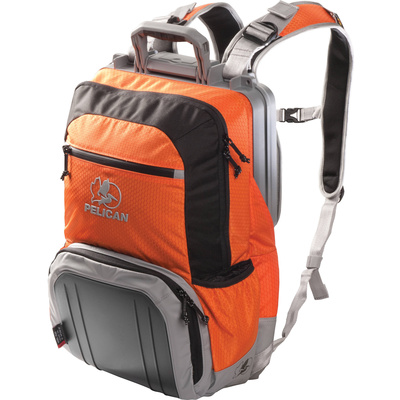 ---
Pelican S140 Sport Elite Tablet Backpack (Orange)
Product #11875 | SKU 0S1400-0003-150
|

(no ratings yet)

Thanks for your rating!
- show branch stock
---
With Watertight, Crushproof ABS Laptop Case & iPad pocket
---
The orange on black and gray S140 Sport Elite Tablet Backpack from Pelican delivers excellent storage capability for your iPad and laptop. Your iPad can be stashed inside its own touch fastened interior compartment. Your laptop is safely held inside a rear located watertight and crushproof ABS storage compartment that rests against your back and is supported by adjustable floating shoulder straps and a padded, ventilated lumbar area. For extra protection, a very rigid front plate is provided to guard against incidental contact that is inevitable when you are out on the road.
The pack is made from strong 420D Honeycomb Nylon material with plenty of interior space for your collateral material or photo gear within its 20.5 liter zippered main storage area. Inside the pack you'll find a slip-in pocket for manuals as well as a compartment for, perhaps, a sweater. A zippered mesh storage pocket is provided for your computer cables, charger and other support equipment.
The S140 also features a removable hip belt that is used for additional support while traveling. A snap coupled sternum strap helps provide balance and stability while walking. A rigid top carry handle is also included for quick grab moments such as removing the pack from your car or luggage rack. The S140 is backed by Pelican's lifetime warranty against breakage and manufacturer's defects.
Key Features
Built-in watertight, crushproof ABS case for laptop located in rear of pack, against your back
Separate, interior touch fastened iPad compartment
Top-loading design
SureGrip soft rubber top carry handle
Rigid front mounted plate for impact protection
20.5 liter main storage compartment
Chest clip (sternum strap) and removable hip belt for stability and balance
Floating shoulder straps and lumbar pad with ventilated back
Carry-On Form Factor
FAA and airline carry-on specifications are subject to change without notice, please check with your airline before designating this case as a carry-on item. Most airlines require carry-on items to have an external linear measurement that is equal to or less than 45.0" (114.3 cm). The external dimensions of this case add up to 43.0"(109.23 cm)
Specifications
Material 420D Honeycomb Nylon
ABS plastic
Polypropylene skid plate
Stainless steel pins, latches
Rubber over-molded ABS handle
Type of Closure Zipper
Exterior Dimensions 20.0 x 13.0 x 10.0" (50.8 x 33.0 x 25.4 cm)
Laptop Compartment 10.4 x 7.6 x 1.3" (26.4 x 19.3 x 3.3 cm)
Volume 20.5 L (1525.6 cu in)
Accommodates iPad
Small DSLR system (body, 2 lenses - approx)
Manual
Sweater
Carrying/Transport Options Adjustable shoulder straps
Rubber top carry handle
Sternum strap
Removable hip belt
Weight 6.75 lb (3.1 kg)
Reviews
(no ratings yet)
Own or use this product?
Give it a quick rating:
Thanks for your rating!
Share your thoughts with other customers:
Write a review
Product:

Pelican S140 Sport Elite Tablet Backpack (Orange)

Manufacturer:

Model:

S140O

SKU:

0S1400-0003-150

RM Product #:

11875

Warranty Information: