Korg Volca Kick - Analog Kick Generator
Product #37440 | SKU VOLCAKICK
(no ratings yet)
Thanks for your rating!
---
---
---
Product Features
Analogue Bass Synthesis
Self-Tuning Oscillators
3 Analogue Oscillators
Built-In 16-Step Sequencer
8 Memory Patches
Customer Reviews
(no ratings yet)
Thanks for your rating!
Product Details
Product: #37440
SKU: VOLCAKICK
---
Buy Together & Save!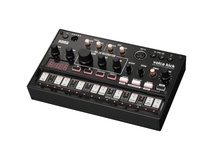 Korg Volca Kick - Analog Kick Generator
---
Overview
The Volca Kick - Analogue Kick Generator from Korg features an analogue circuit based on the powerful resonant sound of the original MS-20 filter and creates a wide range of kick sounds only possible through analogue circuitry. Possible tones range from solid kick drums to crisp kick basses. The integrated 16-step sequencer features Touch FX, which lets you control an effect instantly, giving you unprecedented live performance potential. Pattern chaining allows you to create a large-scale structure of 256 steps (16 steps x 16 patterns). The unit can also be controlled with its multi-touch keys allowing for pitched sequences for creating kick-basslines well suited for trap and grime.
Designed with a straightforward structure, the Volca Kick utilises the MS-20 Resonator (Pitch/Bend/Time) to generate the core tone, while the Pulse Colour/Level adds the initial attack and the Amp Attack/Decay adjusts the decay of the sound. Use the Drive and Tone controls to add multiple stages of distortion and adjust the high frequencies. The unit can receive MIDI from an external controller or DAW via its 5-pin DIN connector. Multiple units from the Volca line can be clock-synced with the 1/8" Sync In and Out connectors. It can be powered by the included six AA batteries or with the optional KA-350 AC adapter.
Key Features
Analogue kick sounds generated by MS-20 filter oscillation
Aggressively control the sound using Drive and Tone
Powerful kick-bass that rules the beat
16-step sequencer allows automation of all parameters
Active Step generates new beats and bass lines by removing or inserting steps
Use Accent, Slide, and Bend Reverse to power-up your sequences
Touch FX controls real-time sequence effects for instant cuts, breaks, and fills
Playback can be synchronised with another unit
Specifications
Keyboard
Multi-touch Keyboard with Step Key
Synthesiser Type
Analogue
Structure
VCF (no input MS-20 Rev1 filter as resonator)
Pulse Generator
VCA
Analogue Drive
Analogue Tone
Resonator
MS-20 Resonator: Pitch/Octave, Bend, Time
Operating Pulse Width
Pulse: Colour, Level
Amplifier
Attack, Decay
Tone
Tone: Low-Pass Filter, 12 dB/Oct
Drive: Yes
Sequencer
Number of Parts: 1
Number of Steps: 16
Number of Recording Patterns: 16 (each with its own sound programme)
Controls: Pattern Chain, Motion Sequence, Touch FX, Active Step, Accent (On/Off, Depth), Slide, Bend Reverse, Roll (1/4, 1/2, 1/1, 4/3, 2/1, 3/1), Octave (1 Oct Up, 2 Oct Up), Sustain, Swing
Connectors
1 x 1/8" (3.5 mm) Stereo Mini Jack Headphone Output
1 x 1/8" (3.5 mm) Mono Mini Jack Sync In
1 x 1/8" (3/5 mm) Mono Mini Jack Sync Out
1 x 5-Pin DIN MIDI In
Power Supply
6 x AA Alkaline or Nickel-Metal Hybrid Batteries
Optional KA-350 Adapter (9 VDC)
Battery Life
10 Hours (Approximate, Using Alkaline Batteries)
Dimensions (W x D x H)
7.61 x 4.54 x 1.82" (193 x 115 x 46 mm)
Weight
377.0 g