Rode PinMic Microphone - Long

Product #18664
SKU RODPINMICLONG


(no ratings yet)

Thanks for your rating!
Usually ships in 2 - 3 working days
---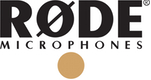 ---
Rode PinMic Microphone - Long
Product #18664 | SKU RODPINMICLONG
|

(no ratings yet)

Thanks for your rating!
Usually ships in 2 - 3 working days
---
Product Features
Mounts on Fabric Up to 3.5 mm Thick
Detachable Capsule & Backplate
Attaches to Material Without Clips
Kevlar Reinforced Cable
Omnidirectional Polar Pattern
---
Email me when stock arrives
The RØDE PinMic-Long Wearable Microphone is identical to the standard version of the RØDE PinMic except the PinMic-Long is designed to successfully mount to fabric up to 3.5 mm thick. The PinMic-Long delivers a patented mounting system that surpasses traditional lavalier microphones, and enables flexible mounting in all applications. It features a detachable capsule and backplate system. Simply place the backplate to the inside of an article of clothing or other material, and reattach the capsule to the three pins on the backplate.
In addition to its convenient mounting system, the PinMic-Long features a miniature condenser capsule with an omnidirectional polar pattern and audio fidelity well suited for professional recording, broadcast applications, live sound and more. The PinMic-Long includes a rugged Kevlar reinforced cable, water resistant pop filter, mini-furry, cable management clip and rugged storage case.
Key Features
The RØDE PinMic-Long features a detachable capsule head that mounts onto three pins on the microphone backplate
The MiCon connector system provides seamless integration between all of RØDE's compact wearable microphones and a wide range of wireless systems
Water resistant case provides rugged and secure protection for the microphone, cables and accessories
Transducer
Condenser
Polar Pattern
Omnidirectional
Frequency Response
60Hz to 18kHz
Signal-to-Noise Ratio
Signal noise ratio 69dB
Equivalent noise 25dBA SPL (per IEC651)
Maximum Input Sound Level
Maximum SPL 110dB (clipping SPL)
Power Requirements
Min 2V - Max 5V through MiCon wireless adaptors
P48 through MiCon XLR adaptor
Output Impedance
3kΩ Typical
Output Connectors
MiCon XLR Adaptor
Dimensions (HxWxD)
16 x 22 x 33 mm
Weight
10 g
In The Box
Rode PinMic Microphone - Long
Impact Resistant Storage Case
Water Resistant Pop Filter
Mini-Furry
Shielded Detachable Kevlar Reinforced Cable
Lapel Style Cable Management Clip
Adjustment Tools
5 Year Warranty
Reviews
(no ratings yet)
Own or use this product?
Give it a quick rating:
Thanks for your rating!
Share your thoughts with other customers:
Write a review
Product:

Rode PinMic Microphone - Long

Manufacturer:

Model:

RODPINMICLONG

SKU:

RODPINMICLONG

RM Product #:

18664