Sony UTX-M03CE42 Handheld Mic Transmitter for UWP-D Series

Product #16414
SKU UTXM03CE42


(no ratings yet)

Thanks for your rating!
Usually Ships in 4 - 6 weeks
---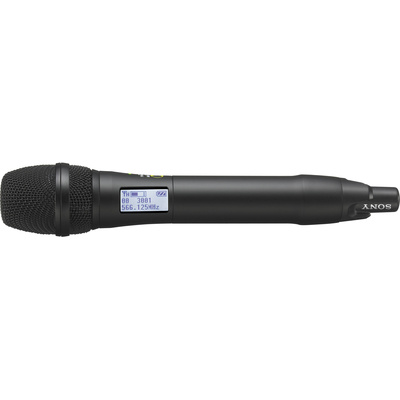 ---
Sony UTX-M03CE42 Handheld Mic Transmitter for UWP-D Series
Product #16414 | SKU UTXM03CE42
|

(no ratings yet)

Thanks for your rating!
Usually Ships in 4 - 6 weeks
---
Product Features
Interchangeable Microphone Capsule
Built-In Windscreen
Durable Metal Construction
Digital Companding Circuitry
USB Charging and Power
---
Email me when stock arrives
The 638 to 698 MHz version of the Sony UTX-M03 Integrated Digital Handheld Wireless Microphone Transmitter features an all-metal chassis, an easy to read LCD display, a wide switching RF bandwidth, USB power and charging options, automatic channel scanning, infrared synchronisation between the transmitter and receiver, and digital companding circuitry to improve the transient response of received audio. The package is suitable for a wide range of wireless applications such as ENG (Electronic News Gathering), talk shows, lectures, and more.
The transmitter is referred to as integrated digital because the transmitter and receiver utilise DSP for digital companding and expanding of the transmission signal. Performing the companding and expanding processes in the digital domain improves the accuracy and transient response of the received audio.
The handheld microphone transmitter features a unidirectional capsule, a built-in windscreen, and a robust metal construction. The capsule can be removed and interchanged with over 40 compatible microphone capsules from various manufacturers, such as the industry standard Shure SM58. The transmitter can operate for up to 8 hours on two AA-size alkaline batteries, can be powered or recharged via USB micro B connections, and features a comprehensive LCD display.
The unit comes with a screw adapter and a microphone holder.
Key Features
Interchangeable Microphone Capsules
Enables use of Sony's DWX Series microphone capsules such as the F31, F32, or CU-C31 as well as over 40 capsules from other manufacturers such as the industry standard Shure SM58
Digital Companding
Utilises analogue-to-digital and digital-to-analogue convertor stages so that the transmission signal can be digitally companded by the transmitter and digitally expanded by the receiver for improved audio transient response
Automatic Channel Scanning
Scans for available transmission channels and then syncs the transmitter to the receiver via infrared
Frequency Coverage
Provides up to 60 MHz of transmission bandwidth
UWP Series / WL-800 Series Compatibility
Enables cross-compatibility between the UWP-D transmitter with a UWP Series or WL-800 Series receiver or UWP Series or WL-800 Series transmitter with a UWP-D receiver
USB Power Options
Supports USB powering and USB charging of internal Ni-MH rechargeable batteries placed in the battery cartridge
UHF Phase Locked Loop (PLL) Synthesised Frequencies
Provides stable transmission and reception by generating a transmission frequency and locking the phase of the transmission signal to the incoming signal of the receiver
True Diversity Reception
Utilises dual antenna reception circuits and selects the stronger incoming signal to reduce drop-outs
Tone Squelch Circuitry
Transmits a pilot-tone signal with the audio signal and only outputs the audio signal if the pilot tone is present to reduce RF interference from other sources
Simultaneous Multi-Channel Operation
Stores the most stable interference-free transmission frequencies to internal memory for rapid setup and switching between frequency groups
Selectable RF Output
The transmitter allows selection between 5mW output power and 30mW output. 5mW is suitable for indoor, simultaneous multi-channel operation while 30mW is intended for outdoor long-range use
Visual Display
Features a comprehensive LED display providing channel and frequency information, battery life, total usage time and more
All-Metal Construction
Features metal construction for durability
Transmitter
Type of Transmitter
Crystal-controlled UHF PLL synthesised handheld microphone transmitter
Antenna
1/4 wave length wire (internal)
Polar Pattern
Unidirectional
Emission
F3E
Carrier Frequency Range
638 to 698 MHz
RF Power
30 mW / 5 mW
Adjustment Range
151 dB SPL (at 21 dB attenuator level)
Dimensions (Diam. x L)
0 to 21 dB (in 3 dB steps)
Frequency Response
Transmission: 23 to 18,000 Hz (typical)
Capsule unit: 70 to 18,000 Hz
Signal to Noise Ratio
96 dB (max deviation, A-weighted)
Audio Delay
Approximately 0.35 msec
Pilot Tone
32 kHz / 32.382 kHz / 32.768 kHz
Display
LCD
Power Requirements
3.0 VDC (with two AA-size alkaline LR6 batteries)
5.0 VDC (via USB micro-B)
Battery Type/Approx. Life
Approximately 8 hours with Sony's AA-size alkaline (LR6) batteries at 25°C at 30 mW output
Operating Temperature
0 to 50°C
Dimensions (Diam. x L)
-20 to 55°C
Dimensions (W x H x D)
48.0 x 260 mm
Weight
Approximately 296 g including batteries
In The Box
Sony UTX-M03CE42 Handheld Mic Transmitter
Microphone Holder
Screw Adapter
Limited 1-Year Warranty
Reviews
(no ratings yet)
Own or use this product?
Give it a quick rating:
Thanks for your rating!
Share your thoughts with other customers:
Write a review
Product:

Sony UTX-M03CE42 Handheld Mic Transmitter for UWP-D Series

Manufacturer:

Model:

UTXM03CE42

SKU:

UTXM03CE42

RM Product #:

16414