Uniden XTRAK 40 UHF CB Mobile Radio

Product #56536
SKU XTRAK 40


(no ratings yet)

Thanks for your rating!
- show branch stock
---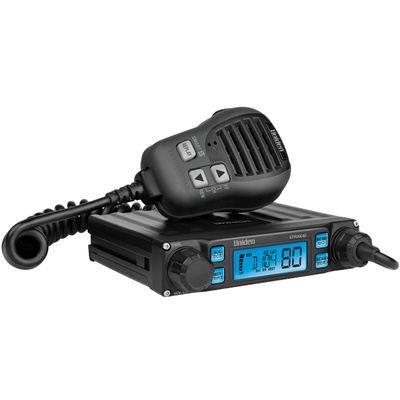 ---
Uniden XTRAK 40 UHF CB Mobile Radio
Product #56536 | SKU XTRAK 40
|

(no ratings yet)

Thanks for your rating!
- show branch stock
---
Mini Compact Size Waterproof and Dustproof UHF CB Mobile
---
Staying connected with co-workers while driving a property can be tough without the right radio equipment, and risks important messages being missed due to loud machinery or vehicles noise. The new Uniden XTRAK 40 is an IP67 rated waterproof CB radio designed to fit into quad bikes and agricultural vehicles, providing clear transmission between users in loud outdoor environments. With 12/24 voltage, this UHF radio is ideal to install in almost any vehicle.
Built rugged and designed to withstand Australia's tough climate, the XTRAK 40 is waterproof and dust proof, making it the perfect communication tool for any exposed or open vehicle setting. A compact design allows the radio to fit neatly into any vehicle and features dual speakers in both the heavy-duty speaker microphone and the CB radio case, allowing the user to hear communications clearly while operating loud equipment.
Unique to the market, the instant replay function records up to three minutes of transmission allowing the user to replay the conversation again in the event a communication is missed. Smart Mic Technology enables effortless switching between voice enhancer, instant replay, instant channel or the call tone feature. The voice enhancer provides four audio level settings (normal, bass, midrange and high) naturally enhancing transmissions for super clarity and performance.
The compact XTRAK 40 is a UHF radio and scanner in one and includes Master Scan® for groups of users to seamlessly communicate on a range of channels. If communication is interrupted, all radios within the group will automatically transfer to another available channel so that uninterrupted communication can continue.
The Uniden XTRAK 40 transmits and receives messages from up to 80 channels including police and fire frequencies. Users wanting to monitor more than one channel can use the triple watch function, allowing up to two channels, plus the standby channel to be monitored every 1.5 seconds.
The CB radio case has a large LCD display providing clear and easy-to-read information. Users can choose from seven backlit colour options and can change the display brightness from one of the four options (off, low, mid, high), if visibility is poor.
The XTRAK 40 provides hassle-free, clear communication for users looking for an outdoor CB radio solution that is built to last.
Key Features:
IP67 rating, waterproof and dust proof
80 UHF narrowband channels
Instant Replay Function – Up to 3 Minutes
Dual Speakers – Speaker Mic + Base
Heavy duty speaker microphone with Smart Key Function
Mic Smart Key Technology
Large LCD display feature
7 colour LCD / backlit options
Voice enhancer
Interference eliminator (CTCSS)
Digital coded squelch (DCS)
Built-In AVS circuitry
5W transmission power
12/24 Voltage Suitable For Any Vehicle
In The Box
Uniden XTRAK 40 UHF CB Mobile Radio
Reviews
(no ratings yet)
Own or use this product?
Give it a quick rating:
Thanks for your rating!
Share your thoughts with other customers:
Write a review
Product:

Uniden XTRAK 40 UHF CB Mobile Radio

Manufacturer:

Model:

XTRAK 40

SKU:

XTRAK 40

RM Product #:

56536