SmallHD 702 Touch 7" On-Camera Monitor

Product #60570
SKU MON-702-TOUCH


(no ratings yet)

Thanks for your rating!
- show branch stock
---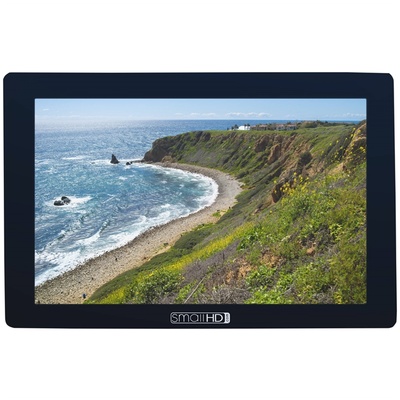 ---
SmallHD 702 Touch 7" On-Camera Monitor
Product #60570 | SKU MON-702-TOUCH
|

(no ratings yet)

Thanks for your rating!
- show branch stock
---
Product Features
7" Daylight Viewable 1920 x 1200 Display
1500 cd/m² Brightness
Bonded Glass; Anti-Reflective Coating
Waveform, Custom LUTs, De-Squeeze & More
3G-SDI & HDMI Inputs/Outputs
---
The SmallHD 702 Touch 7" On-Camera Monitor features an IPS LCD display panel with a resolution of 1920 x 1200. The IPS panel provides a wide off-axis viewing experience without significant shift in colour or contrast. The panel also features a maximum brightness of 1500 cd/m², which makes it more than well suited for use outdoors. The touchscreen capability of the monitor facilitates using the SmallHD OS3 software package that allows you to create looks and save them as pages.
Interchangeable battery plates allow you to use the battery of your choice. However, the monitor ships with two L-series battery plates. The 702 Touch incorporates 3G-SDI and HDMI inputs and outputs, as well as a headphone jack for monitoring audio. It also has a store of monitoring features including waveform, custom LUT support, anamorphic de-squeeze, and audio metres.
OS3 offers the same intuitiveness of a graphical user interface (GUI), though with touchscreen navigation. Rather than have confusing menus, this GUI allows you to selectively apply monitoring tools such as waveform, vectorscope, and focusing aids to up to 12 different "pages". Using the touchscreen, swipe through different preset pages and toggle monitoring tools on or off with ease.
Key Features
Pixel zoom: 2x and 4x with smooth pan via joystick button
Frame guides
DSLR scale (Canon, Nikon)
Custom scale
Anamorphic de-squeeze
Image rotate (manual/automatic)
Image flip (manual/automatic)
Cross conversion
Focus assist (colours)
Peaking
False colour
Zebra (multiple)
Waveform
RGB parade
Histogram
Horizon indicator
Image capture (individual and time-lapse)
Custom LUTS
LUT downstream
LUT import
Image overlay
Audio metres
Display
Display Size
7.0" / 17.8 cm
Screen Resolution
1920 x 1200
Aspect Ratio
16:10
Viewing Angle
Horizontal: 179°
Maximum Brightness
1500 cd/m2
Image Controls
Anamorphic De-Squeeze, False Colour, Focus Peaking, Image Flip, Pixel-to-Pixel Zoom, RGB Parade, Screen Markers, Underscan, Waveform
I/O
Video
1 x BNC (3G-SDI) Output
1 x HDMI Type A Output
1 x BNC (3G-SDI) Input
1 x HDMI Type A Input
Embedded Audio
HDMI
SDI
Audio
1 x 3.5 mm Headphone Output
Built-In Speaker
None
Power
1 x Micro-USB Output
Card Slot
1 x SD
Power
DC Input Power
6 to 8.4 VDC
Battery Type
2 x L-Series
Power Consumption
11 W
Mounting
Mounting
4 x 1/4"-20 Female
Environmental
Certifications
COE, FCC, IC, as per Manufacturer
General
Material of Construction
Aluminium
Dimensions (W x H x D)
18.01 x 11.86 x 3.28 cm
Weight
536 g
In The Box
SmallHD 702 Touch 7" On-Camera Monitor
Reviews
(no ratings yet)
Own or use this product?
Give it a quick rating:
Thanks for your rating!
Share your thoughts with other customers:
Write a review
Product:

SmallHD 702 Touch 7" On-Camera Monitor

Manufacturer:

Model:

MON-702-TOUCH

SKU:

MON-702-TOUCH

RM Product #:

60570